Wildcats start fast and stave off Clippers' comeback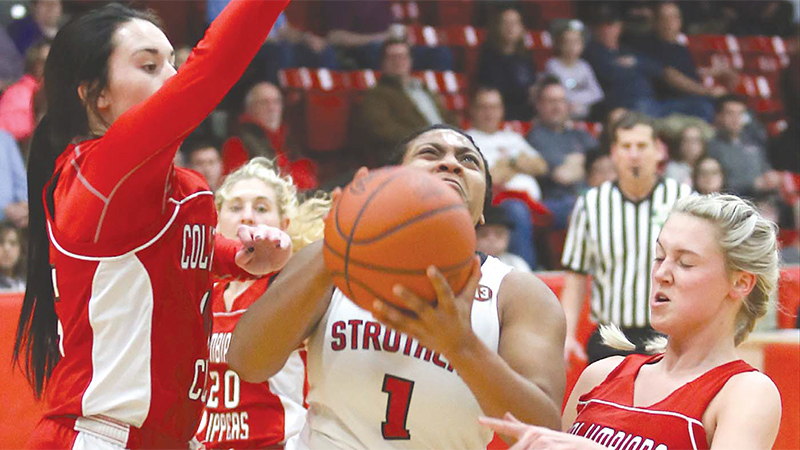 ---
By BOB ETTINGER
sport @vindy.com
Columbiana vs Struthers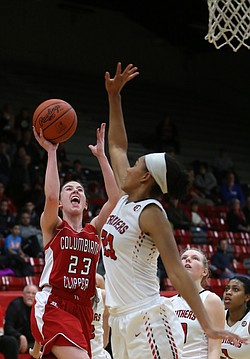 Gallery
STRUTHERS
Struthers guard Khaylah Brown had a pretty good idea what it was going to take for the Wildcats to topple visiting Columbiana. Brown shared that information with teammate Alexis Bury and looked like a prophet in doing so after a 61-52 victory on Monday night.
Brown (3 of 4), Bury (2 of 2) and Keasia Chism (2 of 2) combined to make seven of eight free-throw attempts over the final 1:13 to curtail the Clippers' attempt at a comeback.
"[Brown] called it," Bury said. "She said the game would come down to free throws. We made sure to practice them."
It was a layup from Brown that helped the Wildcats right the ship.
"That was all in the momentum of the game," Brown said. "After it went in, the whole bench jumped up. Everyone was excited."
Michelle Buser's 3-pointer gave Struthers (18-3) a 35-26 advantage with 3:41 to play in the third period and touched off a 16-2 run that put the Wildcats in front, 48-28, with just under six minutes remaining.
"One of the key buckets was Buser's 3-pointer," Struthers coach John Grandy said. "It bounced around the basket like five times. That gave us the outside opportunity we were looking for. That was a big bucket."
That shot opened up the lane for Bury, who scored twice on drives to the bucket, and allowed for the guards to get the ball in to the post.
"I don't have an answer for [why I attacked like that]," Bury said. "I saw it was open and I went."
Marisa McDonough's two free throws shocked the Clippers (20-2) into action. Kayla Muslovski netted 11 points as Columbiana closed to within six, 52-46, with 1:34 to go.
"The kids can play hard," Columbiana coach Ron Moschella said. "Sometimes, they can get intimidated. We've never played against a team with that kind of height. There's a lot we can learn from it. We tested them a little bit. Our pressure was good and our kids are quick. We made some bad decisions and turned the ball over too much. Any time you turn the ball over, you aren't shooting. We had 20 turnovers. That's 20 shots we didn't take."
The first half began much the same way the final four minutes of the third period played out. The Wildcats used five points from Brown and four more from Chism to claim an 11-0 lead less than three minutes into the game.
"I thought we were prepared," Grandy said. "In the second, I coached them up a bit and I put the reins on them. I'm so proud of my players. They played hard. [Columbiana] gets after it pretty hard. We beat a pretty good team today."
Struthers held that 11-point edge, 20-9, to start the second quarter and pushed the lead to 24-9 following a layup from Renee Leonard.
"Their coach had a good scheme against us," Moschella said. "That killed us in the beginning. We came back and we played as hard as we could. We were happy at the half."
Alexis Cross answered with her own layup for Columbiana to start a 13-1 run in which Muslovski netted eight points, including a 3-pointer, and Grace Hammond knocked down her own triple as the Clippers closed to within three, 25-22, with 1:11 remaining in the half. Struthers led, 27-24, at the break.
Muslovski led everyone with 29 points and seven steals and Cross finished with 13.
Brown paced the Wildcats with 20 points and six steals, Chism had 12 points and Bury (eight rebounds, two assists) and Trinity McDowell (12 boards) each chipped in with eight points.
More like this from vindy.com