Lawsuit claims ICE violating Constitution, cites Adi case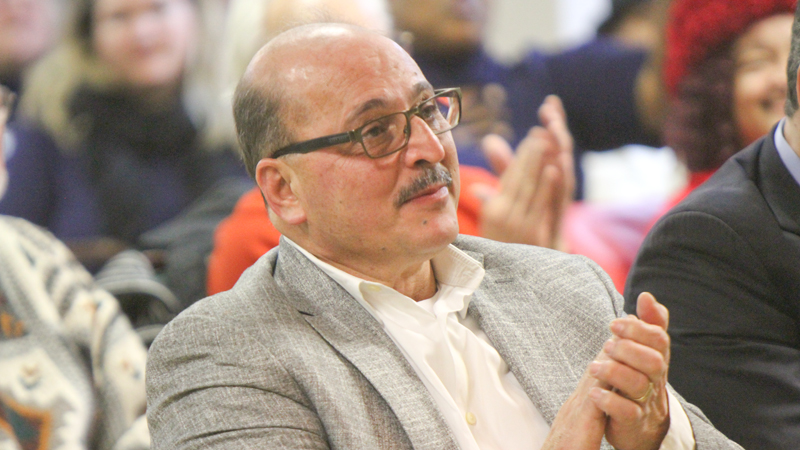 ---
VINDICATOR EXCLUSIVE
By JUSTIN WIER
jwier@vindy.com
YOUNGSTOWN
A federal lawsuit that accuses U.S. Immigration and Customs Enforcement of targeting political opponents for removal from the country cites the case of Youngstown businessman Amer "Al" Othman Adi as an example.
"This sharp spike in immigration enforcement specifically targeting the most vocal immigration activists is intended to stifle dissent," the lawsuit says.
It accuses ICE of violating the First Amendment.
An ICE official called the accusations "irresponsible, speculative and inaccurate."
Several immigration rights groups filed the lawsuit in U.S. District Court in the Southern District of New York along with Ravi Ragbir, who leads the New Sanctuary Coalition of New York City.
ICE intended to deport Ragbir today but agreed to a stay after it learned of the lawsuit, according to The Intercept.
Similar to Adi's case, the lawsuit says federal immigration authorities allowed Ragbir to remain in the country for several years, but ICE unexpectedly detained him at a recent routine check-in.
An ICE spokesman cited a 2001 federal conviction for conspiracy to commit wire fraud and said the organization considers Ragbir an "aggravated felon."
A federal judge, however, granted a writ of habeas corpus which required ICE to release him from custody.
"It ought not to be ... that those who have lived without incident in this country for years are subjected to treatment we associate with regimes we revile as unjust," Judge Katherine B. Forrest ruled.
"Mr. Ragbir is not alone," the lawsuit reads. "Immigrants' rights organizations have joined this lawsuit because they too have seen their leading advocates targeted because of their advocacy."
The lawsuit's list of advocates includes Adi.
ICE allowed Adi to purchase plane tickets to his home country of Jordan, where he planned to return with his wife on Jan. 7.
Adi spoke to The Vindicator and others about his impending deportation on Jan. 2.
The following day, U.S. Rep. Tim Ryan of Howland, D-13th, announced that ICE would allow Adi to stay in the country beyond Jan. 7.
Then, at a routine check-in on Jan. 16 at ICE's Cleveland office, immigration officials took him into custody.
ICE held Adi at Geauga County Jail and then the Northeast Ohio Correction Center on Youngstown's East Side where he remained on hunger strike until his Jan. 29 deportation.
"In an extraordinary move, ICE reversed its prior stay and rejected the congressional request to stay Adi's deportation," the lawsuit says.
Al's wife recently left to join him in Jordan, leaving behind three of his four daughters, all of whom are U.S. citizens.
In previous administrations, the executive branch considered whether individuals targeted for deportation posed a danger to the community and the "human concerns" of whether the person has children born in the U.S. or long ties to a community, according to the lawsuit.
David Leopold, Adi's immigration attorney, said where there's smoke, there's fire.
"After his case became public, ICE took him into custody. The circumstances ... strongly suggest that he was locked up as retribution for speaking out publicly about his case," Leopold said.
"These are very dangerous times in America."
Ryan said it's difficult to discern ICE's motivations, but the way it handled Adi's deportation raises questions.
"He had his plane ticket bought and he gets jacked up," Ryan said. "It looks like they were trying to send a message. Clearly they wanted to make an example of him."
Matthew Albence, executive associate director of ICE enforcement and removal operations, said of the 143,470 arrests made in 2017, 89.2 percent involved criminals or individuals with pending criminal charges. That leaves about 15,495 deportations of those without criminal records.
"That being said ... ICE will no longer exempt classes or categories of removable aliens from potential enforcement," Albence said in a statement.
The lawsuit identifies four other individuals who have been deported with similar fact patterns to those in the cases of Ragbir and Adi.
Those include deportations in Mississippi, Washington and Colorado.
In one case detailed in the lawsuit, Baltazar Aburto Gutierrez, who spoke out against his wife's deportation, was detained by ICE agents – who previously told him they did not have a deportation order for him – and Gutierrez claimed one agent said, "My supervisor asked me to come find you because of what appeared in the newspaper."
The lawsuit seeks an injunction preventing Ragbir's removal from the U.S. and asks the court to declare that ICE's actions violate the First Amendment.
More like this from vindy.com