Williams gets 62 years to life for 2014 stabbing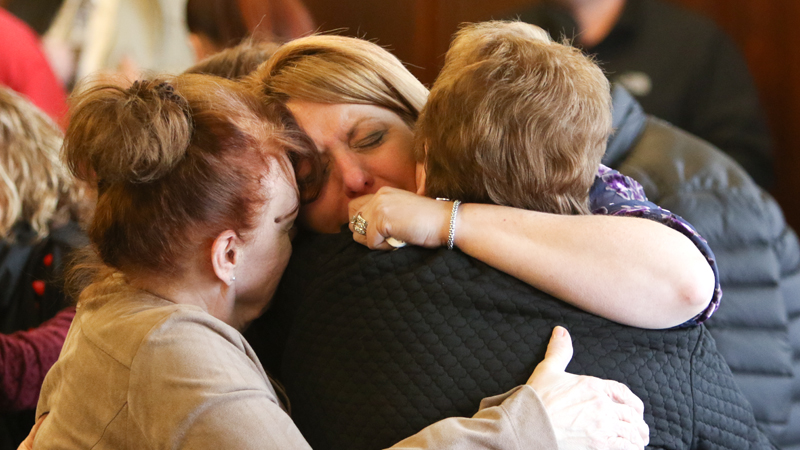 ---
By Justin Wier
YOUNGSTOWN
Ricki Williams Sentenced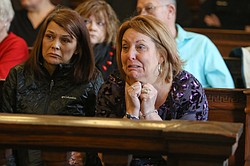 Video
The 22-year-old Ricki Williams IV was sentenced to life in prison Thursday with the opportunity for parole after 62 years for the 2014 stabbing death of 16-year-old Gina Burger.
Twenty-two-year-old Ricki Williams IV will be approaching his 81st birthday when he has his first opportunity to appear in front of the Ohio Parole Board.
Judge John M. Durkin of Mahoning Common Pleas Court sentenced Williams to life in prison Thursday with the opportunity for parole after 62 years for the 2014 stabbing death of 16-year-old Gina Burger.
He delivered his sentence after a more than two-hour sentencing hearing.
Williams pleaded guilty to multiple counts last month, the day before proceedings were set to begin in his death-penalty trial. His plea spared him from death.
Michele Bennett, Burger's adoptive mother, flew in from Texas for the hearing and held nothing back when she addressed the court.
"You are evil masquerading as a human being," Bennett told Williams. "We agreed to the plea agreement because we want you to live in hell for the rest of your life."
Bennett cried out in relief when Judge Durkin delivered his sentence.
Williams denied involvement in Burger's death, which conflicted earlier statements he made to Austintown detectives.
"I'm doing this for my family," Williams said in reference to pleading guilty. "They didn't want to see me on death row."
He told the judge he is not a bad person.
Judge Durkin said he took issue with Williams' claims that he had nothing to do with Burger's death given the evidence prosecutors presented Thursday.
Assistant Prosecutor Dawn Cantalamessa read a harrowing affidavit from Roneisha Johnson, who witnessed the murder.
She told police Williams followed Burger into Johnson's apartment and threatened to kill them both.
After an extended period of threats and abuse, Williams put a knife in Johnson's hand and told her to stab Burger.
When she refused, he put his hands over hers and shoved the knife into Gina.
Johnson's son watched TV in a nearby room.
After Burger died, he told Johnson, "This is what a dead body looks like."
He then took pictures, which investigators recovered, and sent them to an unknown number.
"I can't imagine the terror of what these two young women went through," Judge Durkin said.
Williams and Johnson, who said she feared for her life and that of her son, put Burger's body in a playpen and threw it in a dumpster at the apartment complex. Initially she had been charged as an accomplice until investigators cleared her.
Workers at a Grove City, Pa., waste facility found Burger's body.
The murder concluded a weekend during which Williams repeatedly threatened and terrorized Johnson, prosecutors said.
"I have spent the months and years since that night trying to forget," Johnson wrote in a statement to the court. "I thought he would kill me and my son that night."
She said she continues to struggle with the memories, and her son suffers from nightmares.
"At least we have a chance to try to erase the thoughts of terror and try to live happy lives," Johnson wrote. "Gina will never have that chance."
Physical evidence, including gloves, a sweatshirt and shorts covered in Burger's blood and containing Williams' DNA, corroborated Johnson's story.
Williams also corroborated details of the story to Austintown detectives, but he told police Johnson forced him to kill Burger.
While prosecutors asked for life without parole, defense lawyer Thomas Zena cited other cases where people have inflicted more stab wounds or killed multiple people and avoided life without parole.
A Columbus psychiatrist who examined Williams also described a troubled family life and a slew of mental health diagnoses that may have contributed to his actions.
Zena said it was particularly important to grant an opportunity for rehabilitation to someone of Williams' age.
"There is nothing in your life that you can do at 19 to ever undo what you've done up until 19 years of age," Zena said.
"You are beyond any hope of rehabilitation. You are not capable of rehabilitation. You are not capable of hope from anyone. ... That's what a sentence of life without parole does."
Still, Williams' first opportunity for parole will come after the average life expectancy for a black male of his age, which is 65 years, according to the Centers for Disease Control and Prevention. Studies have found that time in prison also reduces life expectancy.
Both prosecutors and Burger's family said they were satisfied with the sentence.
More like this from vindy.com