Summary of recent criminal activity in Poland and Boardman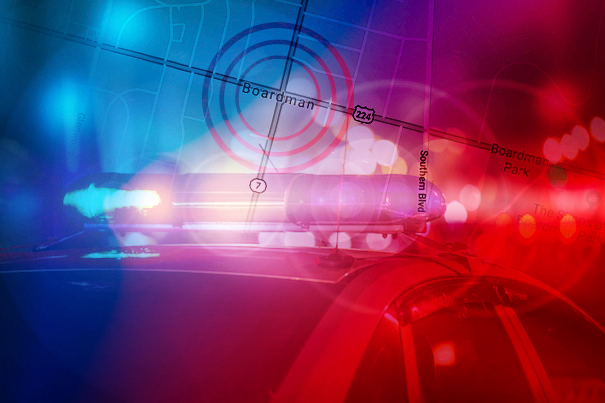 ---
A summary of recent criminal activity in Poland and Boardman:
POLAND
Feb. 3
Theft: A man reported a $200 iPad stolen from his Highland Avenue home.
Feb. 6
Assault: A South Hubbard Road man told police he was assaulted while in the 4700 block of New Castle Road. He had a minor injury.
Damage: An officer on patrol on Dobbins Road reported a deer struck but did minimal damage to his cruiser.
BOARDMAN
Feb. 1
Theft: Melissa M. Collinsworth, 33, of Bob-o-Link Drive, Boardman, along with a 15-year-old township girl, was charged with stealing $839 worth of merchandise that included a jacket from Kohl's, 303 Boardman-Poland Road. Collinsworth also was charged with contributing to the delinquency of a minor.
Theft: Isaiah J. Hubbard, 21, of East Auburndale Avenue, Youngstown, and Christina M. Washington, 38, of Martin Luther King Jr. Boulevard, Warren, were charged in the theft of $66 worth of food and other items from Walmart, 1300 Doral Drive. Hubbard faced an additional charge of obstructing official business when, officers said, he twice provided a false name.
Threats: An official with Marc's, 7121 Tiffany Blvd., alleged a former employee threatened via social media to blow up the grocery store after having been terminated, purportedly for sexually harassing co-workers.
Theft: Police at Boardman Area Court took custody of Veronica L. Scott, 31, who was wanted on a theft charge. Scott, of North Portland Avenue, Youngstown, was accused of intentionally failing to self-scan $30 worth of property last September while in Walmart.
Voyeurism: Several employees and customers at Walmart complained to a loss-prevention official and police that a man had entered a women's restroom and spied on them.
Theft: A Youngstown man noticed $2,500 missing from his vehicle while he was in the 6000 block of Applecrest Court.
Feb. 2
Arrest: Jasmine L. Jordan, 28, of Woodcrest Avenue, Youngstown, was taken into custody during a traffic stop near Market Street after officers learned that Jordan was wanted on Poland Township warrants charging her with one count each of attempted theft, passing bad checks and possessing criminal tools.
Arrest: A traffic stop on Market Street resulted in the arrest of Doretha L. Weston, 41, of Miller Street, Youngstown. Weston was wanted on an Ohio State Highway Patrol warrant charging failure to appear in court.
Domestic violence: Allison C. Latone, 26, of Celeste Circle, Youngstown, was charged with the crime after her brother alleged that during an argument between them and another family member in a vehicle traveling near Shields Road, Latone tossed a cellphone, striking the bridge of his nose, then punched the accuser several times in and near his head and face, leaving redness and swelling.
Aggravated menacing: A Columbiana man reported another man had threatened to beat up the accuser during a custody dispute in the 50 block of Stadium Drive.
Aggravated menacing: A woman told authorities a man threatened her with bodily harm after a vehicular crash on Boardman-Canfield Road.
Burglary: To a home in the 300 block of Mathews Road, from which five jars containing a total of $300 in change were removed.
Theft: Poland Township police relinquished custody to Boardman authorities of Douglas E. Kegarise, 42, of Struthers Road, New Middletown, who was wanted on a theft charge, related to a Jan. 15 shoplifting situation in which three bags of hamster food and a bottle of hand lotion were stolen from Walmart.
Drugs: After pulling him over near Beechwood Drive, authorities charged Woody E. McMullen Jr., 22, with drug abuse and possessing dangerous drugs after alleging McMullen, of North Lakeview Avenue, Austintown, had in bags 1.2 grams of suspected cocaine and three pills that were determined to be Tramadol, a narcotic typically used to treat moderate to severe pain.
Arrest: Police answered a call about a man passed out in a car on Doral Drive before charging Jamie A. Perkins of Glenwood Avenue, Boardman, with operating a vehicle impaired. Perkins, 43, registered a 0.167 blood-alcohol content, which is slightly more than double Ohio's 0.08 legal intoxication limit, a report showed.
Feb. 3
Aggravated menacing: A New Waterford man and a woman told authorities a driver in his 50s behind them on Boardman-Poland Road waved a pistol after the man had changed lanes without seeing the other motorist.
Possible burglary: A woman told police she thought someone had broken into her Erskine Avenue home after discovering two jackets had been knocked over, though officers reported finding no signs of forced entry.
Theft: A woman reportedly took $59 worth of hair products from Sally's Beauty Shops, 395 Boardman-Poland Road.
Drugs: A traffic stop near U.S. Route 224 and Interstate 680 led to the arrest of Melissa E. Chester of Main Street, New Middletown, on charges of possessing drug-abuse instruments and drug paraphernalia. Chester, 34, had a used hypodermic needle, a spoon with burn marks common in drug use and a suspected crack-cocaine pipe, police alleged.
Theft: Warren police handed to township authorities Ian T. Zimomra, 37, of Golf Avenue, Cortland, who was charged with stealing a $250 tool set Jan. 25 from Lowe's, 1100 Doral Drive.
Menacing: An employee with a South Avenue nursing home alleged a co-worker threatened to harm her during an altercation when the victim accused the co-worker of distributing narcotics to patients without properly documenting the actions.
Domestic violence: David J. Gay, 51, of Ronjoy Place, Boardman, faced a charge after his husband alleged Gay pushed him from behind during an argument apparently related to Gay having missed a flight.
Feb. 4
Citation: Jamar E. Steverson, 24, of Presidential Court, Boardman, was cited on a charge of operating a vehicle impaired after officers had stopped his vehicle near Boardman-Canfield Road. Steverson had a 0.178 blood-alcohol content, a report stated.
Theft: A man and a woman reportedly stole $200 worth of merchandise from Ollie's Bargain Outlet, 385 Boardman-Canfield Road.
Theft: Someone entered a carport in the 7800 block of Hitchcock Road, then removed an $8,000 all-terrain vehicle.
Feb. 5
Arrest: Police responded to a report of a fight with a possible weapon at a South Avenue establishment before charging Brian E. Kenney, 22, of North St. Clair Avenue, Girard, with possessing a firearm in a liquor establishment, having a weapon while intoxicated, felonious assault and public intoxication. Two people disarmed an intoxicated Kenney and placed the gun in another room during the fight in which the victim reportedly slipped on a wet floor, leading to a dislocated shoulder, a report showed.
Burglary: To a residence in the 7100 block of Pinewood Drive via a rear kitchen window. Between $15,000 and $20,000 was missing.
Citation: Police on Market Street pulled over and cited Terrell D. Green, 43, of Parkview Drive, Youngstown. He was charged with having an open container of alcohol in a motor vehicle.
Theft: A woman discovered her wallet missing after having accidentally left it in a shopping cart at a South Avenue grocery store.
Identity fraud: A Southern Boulevard woman found out someone without authorization had tried to open a credit-card account in her name.
Theft: A man reportedly stole multiple spools of copper valued at $561 from Lowe's.
Feb. 6
Arrest: A vehicle check near Brookwood Road resulted in Tamia S. Merchant's arrest. Merchant, 21, of Kendall Avenue, Youngstown, was wanted on a Campbell warrant charging failure to appear in court.
Menacing: A Lockwood Boulevard woman reported having gotten four suspicious text messages, causing her to be concerned that the correspondence may have referred to children possibly being victims of human trafficking.
Theft: Justina M. Thompson, 26, of Struthers Road, New Middletown, surrendered on a theft charge, related to a Jan. 15 situation in which $13 worth of hamster food and hand lotion was taken from Walmart.
Menacing: A Struthers woman told officers a man followed her in his car to a Market Street hair salon, where he reportedly threatened her after having backed out of a nearby driveway, forcing the accuser to stop abruptly to avoid an accident.
Feb. 7
Assault: Authorities phone-booked Rami F. Khalaf, 40, of Kendall Avenue, Campbell, on a simple-assault charge after a fight Oct. 12, 2017, at a Boardman-Poland Road big-box store in which the victim alleged having been grabbed, pushed and kicked during a child-custody exchange.
More like this from vindy.com