Boardman swimmers make colorful splash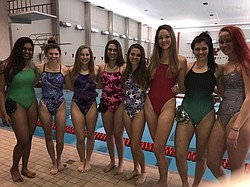 Photo
Neighbors | Submitted .The Boardman girls swim team had red streaks dyed into their hair as part of a swim team tradition. Pictured are senior swimmers Maria Perera, Ella  Hare, Megan Janak, Sydney Hull Carly Amendola, Hailey Marcus, Mia Bruno and Sarah Murray.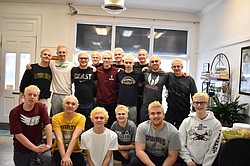 Photo
Neighbors | Submitted .The Boardman boys swim team dyed their hair blonde as part of a swimming tradition. Pictured are, from left, (front) Brendan Beam, Stephen Vasko, Teddy Anzevino, Egan Hare, Brendan Rutledge, Andy Beichner; (back) Kyle Kimerer, Callen Auluzia, Jordyn Stackpole, Jacob Thomas, Mason Rassega, Will Linker, Simon Mascola, David Giancola, Noah Basista and Mathew Dunlany.
The Boardman boys and girls swim teams are enjoying another record breaking year, winning the Northeast Aquatic Conference In Wooster Jan. 6 as well as the AAC Conference at Warren Harding. The teams are determined to keep that winning streak going.
On Jan. 21, at Ralph and Friends Salon on Market Street, the entire boys swim and dive teams participated in the traditional "Hair Dye." They picked blonde to serve as a way to unite the team in the next two weeks leading up to the State Sectional meet.
The girls team was a bit more subtle, deciding on red streaks or highlights as part of the hair dye tradition.
"While bright hair doesn't make them swim faster, it is tradition, and they don't want anything to break the streak they're having," said Coach Terry O'Halloran. "Boardman has a history of strong swim teams, and I would call this year's teams among our strongest yet."
More like this from vindy.com