Wine of incredible quality in a breathtaking setting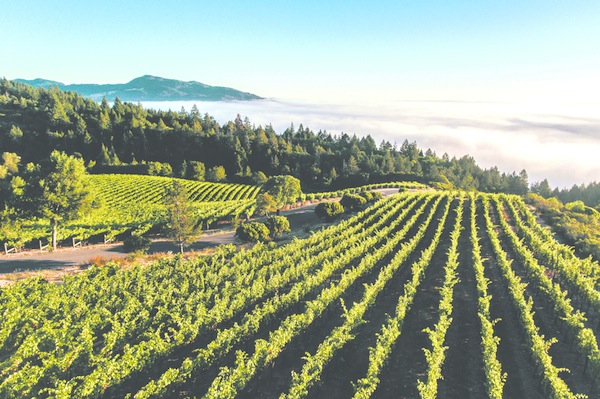 ---
By Brian Fry
There are so many amazing wines to taste and high-quality experiences to enjoy when visiting Napa these days.
There are literally hundreds of wineries offering top-shelf hospitality and unique experiences, so it can be tough for each to set itself apart with distinction.
I was fortunate to be invited to visit The Spire Collection just outside the historic town of Calistoga during my recent trip through California wine country. This was my seventh trip to Napa/Sonoma, so I've enjoyed a lot of great wine and hospitality over the past decade. The Spire Collection set itself aside and earned a place at the top of my "must-visit list."
The setting at Spire is breathtaking from the second you make your way down the long, tree-lined driveway. Once you get parked, you are presented with majestic views of the mountains on both sides and an incredible panorama of vineyards that will please the most discerning and experienced wine country traveler.
The tasting room at Spire is designed to maximize the enjoyment of the tremendous outdoor scenery with ceiling to floor windows that slide open, so you can see and feel the natural beauty all around you. They have an impressive outdoor patio area with plenty of room to relax and enjoy the surroundings.
The tasting room is comfortable and pleasing to the eye. They have an extensive collection of classic albums on vinyl and a record player so that guests can enjoy their personal musical selections while sipping some wonderful wines. Our host, Sally Drews, greeted us warmly and provided extensive education as we tasted through some wines from Spire's extensive portfolio.
The Spire Collection is a global assembly of wineries owned by Jackson Family Estates. Jackson is best known for its Kendall Jackson Vintners Select Chardonnay, which is one of the most recognized wine brands in the world.
JFE has undertaken an impressive number of high-quality acquisitions over the past decade, many of which have become part of The Spire Collection. We tasted wines from several sites around the world, including California, Oregon, Italy, France and South Africa. Each was a unique reflection of its own terroir.
Here's a look at some of what we tasted. All of these wines are available in our Valley:
2014 Gran Moraine Yamhill-Carlton Pinot Noir $45
Aromas of cranberry, cassis, and pine with flavors of pomegranate, huckleberry, sandalwood and milk chocolate.
2013 Cardinale Napa Valley Cabernet $225
86 percent Cabernet with 14 percent Merlot blended in. Rich texture and refined aromas of dark fruits and smoke with flavors of black cherry, plum and toffee.
2014 LaJota Howell Mountain Cabernet $80
Flavors are chocolate, espresso, ripe blackberry, and a hint of Petit Verdot finishing with an earthy tannic structure, there is no doubt you are drinking a Howell Mountain Cabernet.
2014 Mt. Brave Cabernet, Mt. Veeder $80
Black and red berry flavors with hints of herb, Asian spice, espresso and toast combining with floral notes, weight and a wonderful finish.
If you are looking for a couple of special bottles to add to your collection or a new and exciting experience for your next Napa Valley visit, then The Spire Collection should be high on your list.
If You Go
What: Master Class Wine Seminar Featuring The Spire Collection
Where: Barrel33 in Howland
When: 4 p.m. March 17
Tickets: $50 at www.myvalleyvino.com
More like this from vindy.com