Hoerig trial set for April 16; prosecutor says he's ready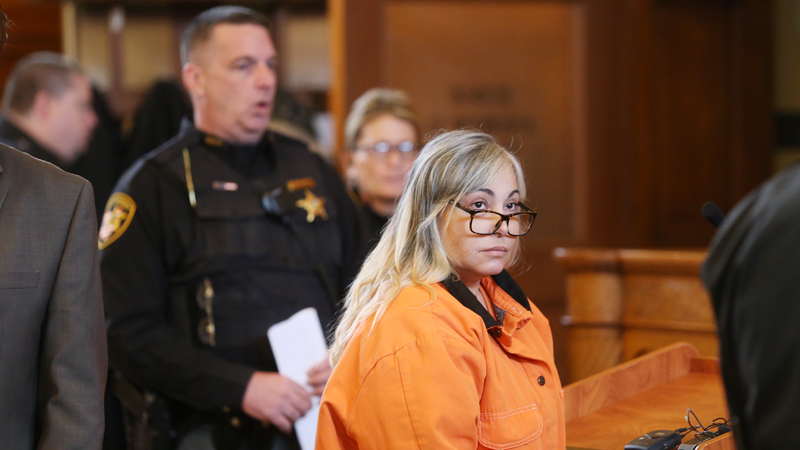 ---
By ED RUNYAN
runyan@vindy.com
WARREN
Trumbull County Prosecutor Dennis Watkins made it clear to Judge Andrew Logan of common pleas court and defense attorneys for Claudia Hoerig he is satisfied to go to trial as soon as April 16 in her aggravated-murder case.
Watkins said so at the end of Tuesday's hearing after the judge announced April 16 as the tentative trial date.
The judge set that date because of a rule requiring a defendant to be brought to trial within 90 days of her arrest if she's in jail.
That's a sooner trial date one would expect for a case that has drawn attention from around the world because of Hoerig, 53, fleeing to her native Brazil on March 12, 2007, the day her husband Karl is believed to have been shot to death in their Newton Falls home.
She was indicted in the killing shortly afterward but escaped prosecution for nearly 11 years because Brazil does not extradite its citizens for crimes charged in other countries.
She was the subject of an 11-year quest by Watkins and others to return her to Trumbull County to face trial.
Judge Logan said he agreed with a filing by prosecutors, saying the "speedy-trial" deadline for Hoerig's case is April 16 – 90 days from Jan. 17, the day she was flown back to the county from Brazil and placed in the county jail.
But the judge said there will be another hearing Feb. 20, during which attorneys from the Ohio Public Defender's Office representing Hoerig her can argue otherwise if they wish or ask for a later trial date.
"At that time we will address any requests that the defense has for additional time to prepare for trial that might cause this court to move this off of the April 16th date," the judge said.
Chris Becker, assistant county prosecutor, said he has provided defense counsel with all the evidence prosecutors have in the case except for one page that was inadvertently left out and will be provided right away.
Defense attorneys received the evidence late Friday, said Matt Pentz, one of Hoerig's attorneys.
Like at her Jan. 19 arraignment, Hoerig was not required to speak.
Meanwhile, Pentz and his assistant, David Rouzzo, have filed a request with Judge Logan requesting a "gag order" in the case, saying they think the parties should be retrained from talking about the case outside of hearings and filings "to ensure a fair trial for all parties involved and avoid a change of venue" to a location outside of Trumbull County. Moving a trial is costly, the filing says.
Karl Hoerig's body was found March 15, 2007, at the bottom of the stairs in his home. He had been shot twice in the back and once in the head. Investigators say Claudia Hoerig bought a gun and practiced with it shortly before her husband was found dead.
Investigators have said they believe Claudia shot her husband March 12 after he arrived home from a flight as a commercial pilot. He told friends he was going to leave her that day, and he expected that conversation to go badly. They had been married less than two years.
More like this from vindy.com