UPDATE: Two killed in I-680 wreck had left their cars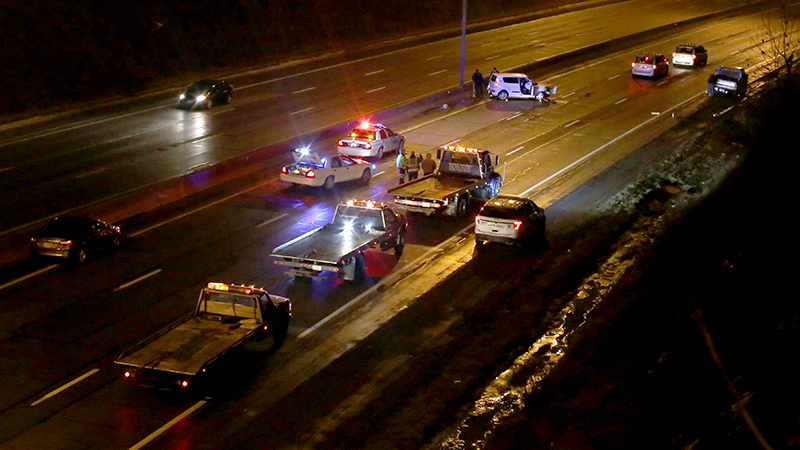 ---
CRASH AREA
UPDATE, Monday, 1:40 p.m.:
YOUNGSTOWN — Police said the two people killed about 6 p.m. Sunday in a traffic accident on Interstate 680 south had left their vehicles when they were hit.
The victims were identified today as Javier Colon, 19, of Youngstown and Rebecca Guntle, 40, who is from out of state.
Lt. WIlliam Ross, head of the Accident Investigation Unit, said the investigation is still in its preliminary stages but he did say alcohol was not a factor.
Ross said the two were hit by a car that went off the road. Ross said he does not know why the two were out of their vehicles.
==
ORIGINAL MONDAY STORY:
Staff report
YOUNGSTOWN
Two people were killed in a multi-vehicle automobile accident Sunday evening on Interstate 680 South, Youngstown police said.
City police diverted traffic off the interstate and onto the Indianola Avenue/Shirley Road exit as they investigated the crash.
Three vehicles were believed involved in the crash, including a late-model pickup truck, a late-model sedan and a Kia Soul compact vehicle.

The highway reopened a couple of hours after the crash happened shortly after 6 p.m.
Several people were taken to the hospital, according to 21 WFMJ-TV, The Vindicator's broadcast partner.
Staff from the Mahoning County coroner's office were also at the scene.
Youngstown police did not have any further information about the crash to provide to the Vindicator Sunday night.
More like this from vindy.com