African Marketplace kicks off Black History Month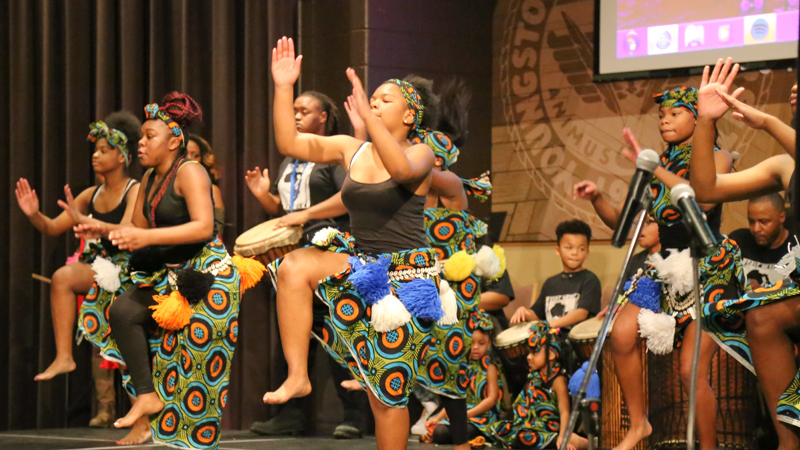 ---
YOUNGSTOWN
The long-standing annual African Marketplace is an opportunity to be immersed in black culture and heritage through the Youngstown Harambee dance group and drummers and shop at the 30-plus vendors offering items from artworks to jewelry and purses and clothing.
An estimated 400 people visited the 2018 Marketplace on Saturday in the Chestnut Room of Youngstown State University's Kilcawley Center, said Dr. Tiffany Anderson, YSU's director of Africana Studies and coordinator of the event.
Among the activities was Tom Kearns, Youngstown postmaster, presenting a Black History stamp, Anderson said.
Youngstown Mayor Jamael Tito Brown and his family made their annual visit to the event.
"We like to shop. The whole family got their money together and bought things," Brown said, noting that the Marketplace offers great exposure for vendors that people might not otherwise know about.
"It helps ensure that economics stay in the community. It's also a good networking opportunity," he said.
The African Marketplace is a reminder to support black businesses; that there is an Africana Studies Program at YSU; and of African roots and traditions and culture as displayed with pride by the Harambee dancers and Kimberly Phillips, a dance performer from Canton, Anderson said.
The Harambee group brought back fond memories for a Warren couple, Twila and Jay Freeman, whose daughter, now 30, was a Harambee dancer.
"It gave her a sense of pride and a chance to fellowship with students from Youngstown," Twila said of her daughter.
Jay said he liked seeing people, including Warren's mayor, Doug Franklin, who attended the affair, and said he hopes the number of vendors will increase in future years.
Among Saturday's vendors were JoAnne Wright of Youngstown and Monica Vega, who was raised in Youngstown.
Among Wright's items for sale was a book, "What if there were No Black Folks," written by Youngstown native Toni Avasi Hill who now lives in Atlanta.
Wright said she often attends the marketplace to show support for the kids. "They feel good when they see the community behind them," she said.
Vega went to college to study theater history, hoping to become an actress. Instead, she ended up an artist painting neo-contemporary African-American art, examples of which she offered for sale at the marketplace.
Vega said a friend with a gallery asked her to do a show in 2000, and that experience persuaded her to paint, primarily about the happy side of African-American culture.
"I love painting. I will do it until I'm old," the 41-year-old artist said.
More like this from vindy.com