Canfield wrestling reaches first state dual tournament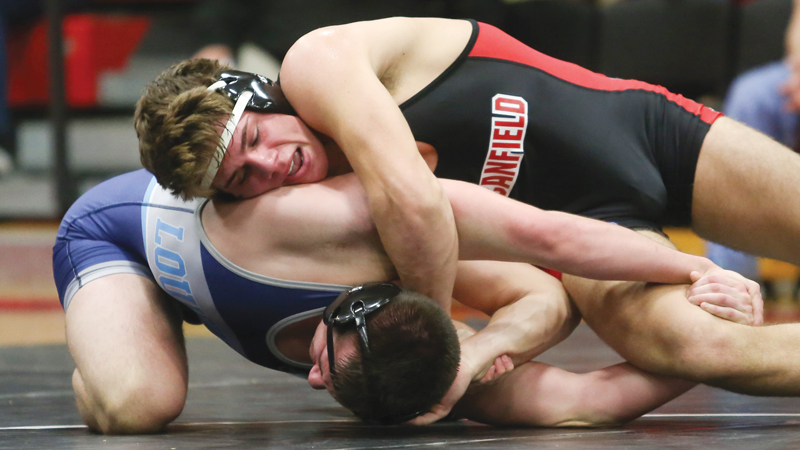 ---
By Brian Dzenis
YOUNGSTOWN
Tyler Stein pinned Blake Robbins and Canfield added another milestone to what is currently the best era of Cardinals wrestling.
The 220-pound junior sent his team and Canfield's gym into euphoria, making the heavyweight bout unnecessary for a 33-31 win against Louisville for the Division II, Region 12 title. Canfield travels to Columbus as a dual team for the first time in school history.
"I was trying to stay calm. I saw everybody jumping up and down and I wanted to keep a straight face," Stein said. "I wanted to jump around myself."
The regional final has been a place of pain for the Cardinals in recent years, where they've fallen short in 2015 and 2017 in close defeats.
"In my freshman year, we lost to Claymont by two points — we win one more match and we go to the state tournament," Canfield senior David Crawford said. "Last year, we lose to Carrollton by three points — one more match and we're there.
"It's just amazing and it was the whole team, not just one or two guys that put the effort together," he added.
Canfield takes an 18-0 record to Columbus. That includes wins over reigning Pennsylvania duals champ, Reynolds, and regional semifinalist Beaver Local, which fell to Lousiville, 42-24, on Monday before the Leopards and Cardinals went against each other.
Canfield has its deepest roster yet. From 160 pounds and up, the Cardinals' crew can hang with anyone at state. That group led the way Wednesday night, digging the team out of a 25-6 hole going into the 160-pound bout.
"I've felt that with this group since they were in seventh grade," coach Stephen Pitts said. "When we wrestled Beaver Local earlier the year, it was the same thing. They went up 31-9 and we rolled off the same kind of thing and won like crazy.
"I don't think the other people know what's coming."
Ben Cutrer (160) started things off with a first-period pin of J.D. Spitaleri. Then came the parade of state-ranked wrestlers.
No. 3-ranked Anthony D'Alesio (170) appeared to pull his groin in the first period against Brent Paulus, but was still able to gut out a 7-4 victory.
"He probably needed to stretch a little better in his warmup, but you talk about somebody with a lot of heart. That's a 170-pound defensive lineman in football who goes against 300-pound kids," Pitts said. "The chips were down a little bit, but I still had a lot of confidence in him."
Reigning state champ and No. 1-ranked David Crawford needed just 13 seconds to pin Louisville's Lathan Larsen.
"I just saw that I need to go out and do whatever my team needed me to do get points in that match," Crawford said.
David's brother, No. 7-ranked Nick Crawford (195), scored a first-period pin of Zach Thatcher before the No. 1-ranked Stein sealed the win.
With an 8-point lead in hand, Canfield just forfeited the heavyweight bout, but if they needed to, No. 3-ranked Dan Kapalko was more than capable of closing out the victory.
More like this from vindy.com