Drawing goes digital at Canfield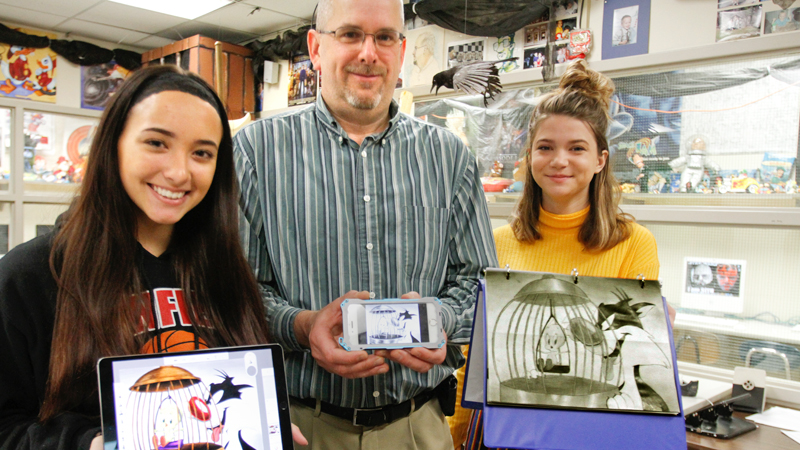 ---
By Billy Ludt
CANFIELD
Everyday use of portable smart devices continues to grow, so the technology's presence in the classroom will follow suit.
In Pete Graff's art classes at Canfield High School, tablets and shared cloud storage have been integrated into his day-to-day lessons.
"Even on here it feels like pencil on paper," senior Alyssa Santoro said.
By her is an iPad Pro showing a drawing of Looney Tunes characters Sylvester the Cat peering into a cage where Tweety Bird sits. At first glance, the drawing appears to be done in pencil, but every stroke and color was made digitally.
Though the cartoon cat and bird are Warner Bros. properties, Santoro said she hopes to work in animation with Disney.
Digital drawings on the tablets were made in the application Sketch Me! A stylus used for drawing on the iPad screen measures how much pressure its user applies, and reacts accordingly with darker or lighter lines.
It aims to replicate shading using a pencil on an actual piece of paper.
"It's a new medium," Graff said. "This is dead on, edge-to-edge accurate."
For his computer graphics class, Graff tasks students with replicating a number of drawings to gauge their art experience.
"It's a determination to see where we're falling, how we want to adjust and where we need to go," Graff said.
This time, they were able to do so on tablets. Once a drawing is finished, he can then share it to a computer (or smartphone) and project it to critique it for the class.
Sylvester and Tweety was one of those drawings, and the class drawings were made in the application Sketch Me!
Senior Kate Jenkins has worked in the digital medium as well. She had a printout of a black-and-white digital drawing she did of an ape. At home, she works on a Wacom tablet, a device made specifically for drawing digitally.
"It'll help me because everything's digital now," Jenkins said.
Jenkins said she plans to attend Columbus College of Art & Design to pursue a degree – and eventually a career – in fashion.
The iPads were a recent, but necessary, equipment addition for the art department, Graff said.
Art for promotions, commercials and covers for products such as DVDs and CDs are primarily made digitally, Graff said. Industry standards have shifted, and he said preparing students to pursue a career in creative fields requires newer technologies.
More like this from vindy.com