Valley students to send letters, drawings to GM CEO Mary Barra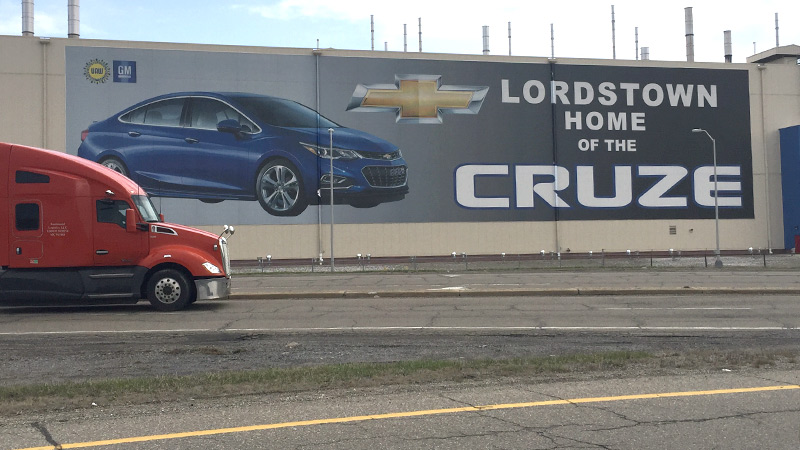 ---
Staff report
LORDSTOWN
This week, local students will be joining the effort to convince General Motors to reinvest in its Lordstown assembly plant.
Drive It Home, a grass-roots coalition that formed to rally support for the plant, announced Monday students in Mahoning and Trumbull counties will be drawing pictures and writing letters to send to GM CEO Mary Barra expressing their wish for the plant to remain open.
GM announced two weeks ago it will stop production of the Lordstown-built Chevrolet Cruze and idle the plant, along with four other plants in North America, as part of a cost-cutting plan. The plants will be idled March 1.
"It's tremendous that the students and children in the Mahoning Valley are taking time to write letters and make drawings to send to GM CEO Mary Barra during the holiday season. Their message comes from the heart, and we hope that CEO Barra will come to understand that the Mahoning Valley has been part of the GM family for 52 years," said Dave Green, president of United Automobile Workers Local 1112.
"We hope that when Mary Barra sees the letters from the children of the Valley she will have a change of heart and make the right decision to keep manufacturing jobs in Ohio," Green said. "Workers and families in the Valley have been loyal to General motors for over half a century, even bailing out the company with their own tax dollars. Now it's time for GM to return the favor and keep making American cars in America."
Green will collect the drawings and letters Friday.
GM's announcement Nov. 26 set off a strong reaction in the Valley and beyond, with many of the Valley's elected officials expressing opposition to the shuttering of GM Lordstown and urging the corporation to allocate a new vehicle to the plant.
The idling of the plant is expected to directly impact about 1,500 workers. GM previously laid off the second and third shifts at the plant. These developments follow a yearslong sales struggle for the Cruze as consumers increasingly prefer trucks, SUVs and crossover vehicles to small cars.