Haas nets 25 to power Mooney win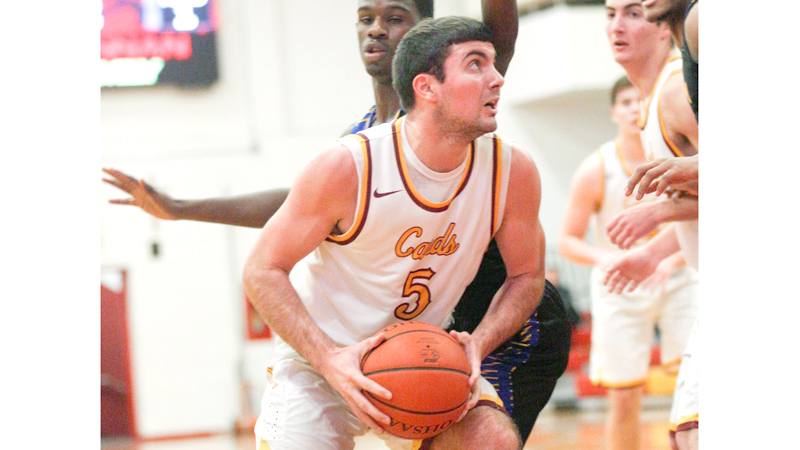 ---
Valley Christian kept Cardinals close
By Greg Gulas
YOUNGSTOWN
This time, the Cardinal Mooney and Valley Christian boys basketball teams didn't need an extra session.
Pete Haas scored a game-high 25 points to lead the Cardinals to Friday's 58-54 victory in their gym.
Last year, the Cardinals and Eagles played a four-overtime game as well as an overtime contest.
Mike Pelini scored 10 and Mooney (1-0) closed with a 12-6 run.
"It was our season opener, so we just wanted to give our best effort and play at our pace," Haas said. "We're a team that loves to focus on playing defense and while we can score, our defense will define us over the course of the season."
Valley Christian was playing without the services of starter Milan Square, who was on an unofficial school visit to Grand Canyon University.
"We have a really resilient group of kids who refuse to quit," Eagles head coach Dolph Carroll said. "They believe in this system, there's simply no quit in them and we did this all tonight with Milan.
"One thing we didn't do tonight is handle their pressure," Carroll said. "This was a great, big-time atmosphere for both teams. We need to work on some of the little things and we'll be all right."
Pelini scored six of the Cardinals' first 10 points, finishing with eight in the opening frame to power Mooney to a 17-12 advantage after the first eight minutes of action.
"We were just trying to play calm and collected as a team," Pelini said. "We worked all summer long to prep for games like this."
Two triples by Haas and a bucket from beyond the arc by Matt Brennan keyed an 11-5 run to start the second period as Mooney opened a 28-17 margin.
Back-to-back triples by Haas and Mark Phillips made it a 34-21 game, but six points by Jordan Trowers and five each from Melvin Neail and Lohron Brown helped Valley Christian (2-1) close with a 9-2 run to cut the Cardinals' lead to 36-30 at intermission.
Neail and Trowers each had a team-high 17 points for the Eagles while Brown was the only other Valley Christian player to finish in double-figures with 14.
"After their second quarter run, Coach [Carey] Palermo told us at halftime to just get ourselves back together," Pelini said. "We knew that they wouldn't quit, and we weren't going to quit either.
"We kept working hard in the second half and so did they."
Four points by Trowers and Neail in the third period helped the Eagles pull to within 44-42 with a quarter remaining.
"We wanted to deny that first pass and I think we did a good job of that tonight," Palermo said. "Melvin Neail and Lohron Brown made plays all night and we couldn't stay in front of them."
More like this from vindy.com