Poland schools receive recognition of excellence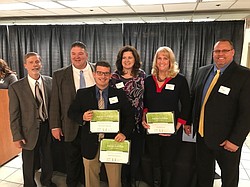 Photo
Neighbors | Submitted.From left John Wilson, Director of Turning Foundation, David Janofa, Superintendent of Poland Local Schools, Kevin Snyder, Principal of Poland Seminary High School, Karen Kanotz, Director of Special Services, Janice Hohloch, Poland Middle School and David Purins Principal, Poland Middle School posed with their Excellence in Education awards.
By JESSICA HARKER
Poland Seminary High School and Middle School received the excellence in education award from the Eastern Ohio Education Partnership.
The high school was recognized for 50 percent of the students graduating from the school attending an Ohio public university within two years, and the middle school was recognized for more than 30 percent of eighth-graders receiving Algebra 1 high school credit.
"I think it truthfully speaks volumes going back to kindergarten, when you look at what kids achieve at different age levels it really shows what they learned before," said middle school Principal David Purins.
Purins said that it is the strong relationship between a caring community and invested teachers in Poland that allows the schools to receive these awards.
"Teachers push them at every grade level in Poland to push them to be the best they can be," Purins said.
In high school, Principal Kevin Snyder said that the school has strong relationships with local colleges that allow students to earn credits for these schools in high school.
"We try to provide opportunities for our students like dual enrollment through public universities such as YSU and Kent State. Many students build a comfort level for these schools and accrue many credits, so they decide to continue their education there," Snyder said.
Poland High School currently offers 56 college credit plus options in classes taught by Poland teachers.
Classes are offered in math, science, social studies and language arts.
"That means the staff members have a masters degree or the allotted courses to be an adjunct professor through various colleges on top of their state teaching license," Snyder said.
The school also invites local college representatives to meet with students throughout the year, which helps students when they choose which schools to attend.
"I believe our staff, students and community have high standards and solid foundations and appreciations for learning," Snyder said. "We try to take that and enhance it so that each student is given an opportunity to succeed."
The relationship between the high school and middle school is a key portion to the success of students according to Purins.
He explained that by having students take Algebra 1 in middle school it allows them to move to higher level math in high school, or to use that class slot their senior year to explore other career opportunities.
"Our teachers do a fantastic job offering our students opportunities to success," Purins said. "It provides choice to those students and parents."
Since students at the middle school essentially skip eighth-grade math, Algebra teacher Janice Hohloch from the Middle School said that a close relationship between middle and high school math teachers is essential.
"We meet once a year and I always ask them to let me know if the students entering geometry as freshman are missing any information," Hohloch said. "We want to be sure our students are always prepared."
It is through this ongoing communication and an adoption of the College Preparatory Math model, CPM, that allow Poland Middle School students to be successful.
"CPM is a program we adopted four years ago that allows students more creativity in problem solving," Hohloch said.
She explained that the model allows for group work, and unique problem solving opportunities that assist students in growing their mathematical understanding.
"We expect our kids to critically think. We expect them to see a problem and understand multiple approaches to that problem," Purins said.
Hohloch, Purins and Snyder all emphasized the importance of a strong community support system that allows both schools to be successful in their push for academic excellence.
"It is always great to be acknowledged by outside parties to confirm the compliments we share with staff and students. It was truly an honor," Snyder said.
More like this from vindy.com