Kane-Johnson making his own way at Niles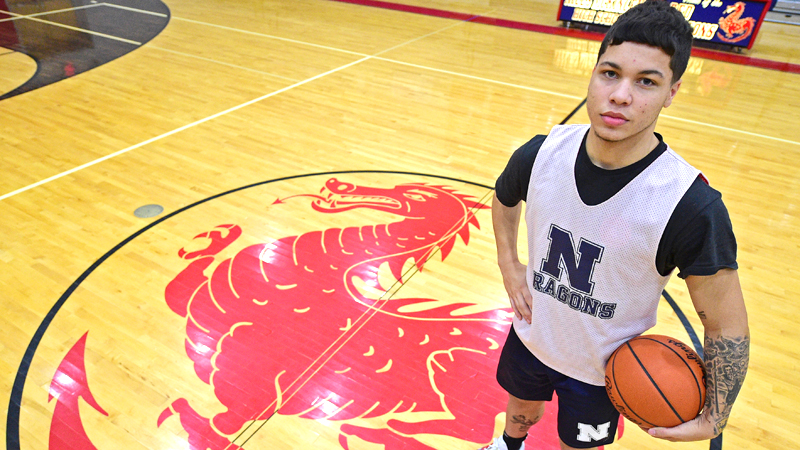 ---
Cyler Kane-Johnson followed his brother at Niles, but he's ...
By Steve Ruman
It was the 2016-17 basketball season, and Cyler Kane-Johnson was a sophomore at Niles McKinley High trying to make a name for himself on the hardwood.
Only problem was, in the basketball circles, Cyler's name was rarely mentioned by itself.
Cyler's older brother, Cameron Kane-Johnson, had just graduated from Niles, and he departed as the school's all-time leading scorer (1,342 points). Cameron also held numerous other records, including most 3-pointers in a season (93) and most points scored in a single game (47).
"It was pretty tough, I mean it's an honor to be called Cameron's little brother, but at the same time there were a lot of expectations, and for a while it got to me," Cyler recalls. "Mentally, I just had to learn how to get past that barrier."
Learn, he did.
As a junior, Cyler averaged 27.9 points per game. In Niles' final regular season game last year, the 5-foot-10 guard scored 53 points in a win over Liberty, breaking big brother's single-game scoring mark.
Now a senior, Cyler broke his own mark last Friday when he scored 55 points in the Red Dragons' season-opening win over Liberty. He made 20 of 29 shots on the night, including 15 of 20 from inside the arc.
Tuesday, he scored 31 in a win at Salem.
Thanks in large part to the play and leadership of Cyler, Niles is off to a 2-0 start after winning just four games a year ago.
Cyler needs just 205 points to overtake Cameron as Niles' all-time leading scorer.
"It's pretty crazy, especially because I was in awe watching what [Cameron] did all those years," Cyler said. "Now here he is telling me, 'Hey little brother, save at least one record for me.'
"The really nice thing is, he is my biggest supporter. And, he deserves all the credit for my success. Every day growing up, we were out there together, he never let up on me. He taught me what it took to be a good player, all the extra work. And playing one-on-one, he always beat up on me, but now I'm thankful he did."
While Cyler's scoring outbursts are garnering the most attention from fans, Niles first-year coach Doug Foster is equally impressed with the rest of his play. Foster noted that against Liberty, Cyler also pulled down nine rebounds, "and on defense, he's constantly moving, constantly communicating."
Foster said Cyler is also a great teammate and role model.
"His will to win is off the charts, it's what really sets him apart," Foster said. "I've watched him play over the past three years, and I always knew he was a special player. But now to be around him every day, to see all the little things he does, to see his work ethic. I really have a different appreciation for everything he brings to the table.
"People always ask me, 'How far can he go at the next level?' The sky is the limit. In college, you have to play strong defense, and he does that. He can impact the game and the players around him without putting up a ton of points. With Cyler, it's the complete package."
Cyler also has earned the seal of approval from his most loyal supporter — big brother Cameron.
"Growing up, he was always the youngest kid in our pickup games and he played with a fierce mentality because he felt like he had something to prove," Cameron said. "Then he was always being compared to me. He always played with a chip, and it has made him a great player.
"We're different in a lot of ways. He's a lefty. He drives to the hoop more, where I relied on the jump shot in high school. Quite honestly, he's a better all-around player than I was at that age."
Upon graduation from Niles, Cameron attended Westminster College for two years, where he quickly established himself as one of the top players in the Presidents' Athletic Conference. As a sophomore last year, Cameron led his team in points per game (15.7) and was second on the team with 75 assists. He then transferred to Youngstown State University to fulfill his dream of playing at the Division I level.
Cameron must sit out this season due to NCAA transfer rules.
"I look at what I was able to accomplish, then I look at Cyler and wow, his game is still getting better. He has a nice future," Cameron said.
For now, Cyler's only concern is seeing to it that he is part of a rebirth of basketball in Niles. The Red Dragons have had just two winning seasons over the past decade, none during Clyer's high school career.
In that regard, Cyler is reluctant to talk about his personal success, noting that "I'll gladly trade in a 50-point night for 10 points and a win."
He said he believes the recent struggles have made the current edition of the Dragons a better bunch.
"We've learned from our mistakes, we have learned what it takes to win. We have the talent and the coaching. We have the right mentality. We just have to put it all together, and I do think it's falling in place," Cyler said.
As for any lingering sibling rivalry?
"Cameron is my best friend. He is sort of my basketball idol, but if you ask me who is going to win one-on-one between me and him, I'm siding with myself," Cyler said. "I think he would want me to say that."
Well, maybe not.
"Cyler is a great player — he has established himself — but I'm still the big brother and no way am I giving up the crown," Cameron said. "And I think I hang onto my [Niles] 3-point record."
Niles will look to notch its third win tonight when it hosts Boardman.
More like this from vindy.com