Federal grant to transform Y'town central business district
---
By DAVID SKOLNICK
skolnick@vindy.com
YOUNGSTOWN
BUILD grant application 2018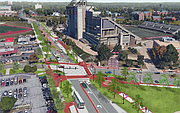 Document
BUILD grant application 2018
When it came to a federal grant to make significant transportation improvements to Youngstown, primarily in downtown, the third time was indeed the charm.
Organizers of the Youngstown SMART2 Network proposal, which was rejected in 2016 and earlier this year, received word Thursday the U.S. Department of Transportation awarded a $10,853,192 BUILD grant to make improvements to the city's central business district, including Fifth, Park and Rayen avenues and Commerce, Federal, Phelps and Front streets.
"This grant will allow us to capitalize on the synergy in our urban core and expand the connectivity to the entire Mahoning Valley," said Jim Kinnick, executive director of the Eastgate Regional Council of Governments, SMART2's lead agency.
Other agencies involved in the grant are the city of Youngstown, Youngstown State University, Western Reserve Transit Authority, Mercy Health and Eastern Gateway Community College.
"This is persistence," said T. Sharon Woodberry, the city's director of community planning and economic development. "It's going to be a fantastic project. It connects all of the investments in downtown."
Similar projects for Youngstown were rejected by the federal DOT when the program was called TIGER – the Transportation Investment Generating Economic Recovery program. It was renamed BUILD – the Better Utilizing Investments to Leverage Developments program.
Trump administration snubs urban projects in TIGER grants
Partnership misses out on $10M infrastructure grant
Feds nix city's bid for $10M - again
Youngstown officials lobby in Washington, D.C., for a $10.2 million federal grant
In addition to the federal funding, $10,541,689 will come from in-kind services and money from various project partners.
The project's key components include a self-driving shuttle service, pedestrian paths, bicycle systems and green infrastructure.
The project will link major regional anchor institutions, Kinnick said, including YSU, St. Elizabeth Youngstown Hospital, Eastern Gateway, the Youngstown Business Incubator, the Covelli Centre and the chill-can facility being built on the city's East Side.
"This funding from the BUILD Grant will be a true impact on Youngstown and the Mahoning Valley," said Mayor Jamael Tito Brown. "This is an economic catalyst for our community and for future investment. This is an example of what happens when we work together and put our differences aside and build true partnership for a common goal."
Construction on the first project – to reduce Fifth Avenue from five and six lanes to three and improve pedestrian traffic – will start at the end of 2019 or early 2020, Kinnick said.
The entire project is expected to take three years to finish, he said.
"This $10.8 million federal investment will prove to be truly transformative for the city of Youngstown and the entire region," said U.S. Rep. Tim Ryan of Howland, D-13th.
The project will help develop about $250 million in economic development over the next decade, Ryan said, by connecting downtown with a central transportation hub.
"This announcement was the culmination of the most robust public-private partnership in the Youngstown area in decades," he said.
One of the more interesting aspects of the network is a self-driving shuttle circulator along Fifth and Rayen avenues that would take people to places such as YSU, St. Elizabeth and WRTA's downtown station.
Two months ago, Youngstown was chosen as one of 10 pilot sites in Ohio to blaze a new trail in smart transportation through the state's DriveOhio initiative.
Test ride the EZ10 driverless robot shuttle bus in New Orleans
• Autonomous Las Vegas Downtown Bus First Day driverless
YSU President Jim Tressel said, "You'll be amazed when this project gets completed. But you'll be more amazed when you see the impact of this project."
The SMART2 [Strategic and Sustainable, Medical and Manufacturing, Academic and Arts, Residential and Recreational, and Technology and Training] Network project will help the continued revitalization of Youngstown, Ryan said.
In addition to Ryan, the SMART2 Network partners thanked U.S. Sens. Rob Portman, a Cincinnati-area Republican, and Sherrod Brown, a Cleveland Democrat, as well as U.S. Rep. Bill Johnson of Marietta, R-6th.
"This enhancement of the central business district and nearby manufacturing plants will provide great multimodal access between key employers in the Mahoning Valley," Portman said. "I'm excited this grant will invest in job creation through transportation improvements, which is vital to strengthening the economy in Northeast Ohio."
Brown said: "Youngstown and the Mahoning Valley are an innovative hub of higher education, health care, entertainment and advanced manufacturing. This project will invest in the transportation infrastructure needed to reinvigorate downtown Youngstown and beyond."
Other parts of Ohio to receive BUILD grants include Monroe County, which received $20 million for a project to transport propane and butane from pipeline to rail, and Geauga County received $9.6 million for safer roadways.
YOUNGSTOWN GRANT
History
Youngstown was awarded a $10.8 million BUILD (Better Utilizing Investments to Leverage Developments) federal grant Thursday by the U.S. Department of Transportation. It's the third time officials have applied for the grant.
Aug. 4, 2016: A $15.5 million grant is rejected.
March 9, 2018: A $10.2 million grant is rejected.
Thursday: A $10.85 million grant is awarded.
Source: Vindicator files
YOUNGSTOWN GRANT
Project
The federal grant awarded to Youngstown includes many projects. They include:
Self-driving shuttle circulator along Fifth and Rayen avenues
Reducing Fifth Avenue from five and six lanes to three
Improvements to parts of Commerce, Federal, Front and Phelps streets and Park Avenue
Pedestrian and bicycle facilities
Green infrastructure including LED lighting, streetscaping and wayfinding signs
Source: Eastgate Regional Council of Governments
More like this from vindy.com