Hunter's double-double lifts Fitch over Ursuline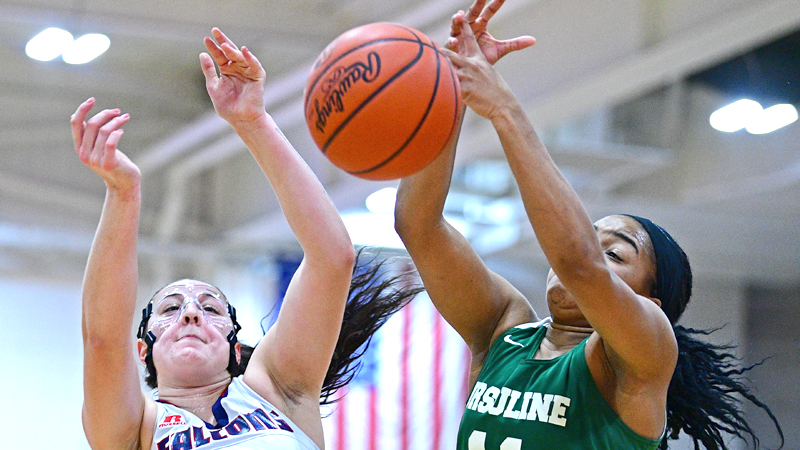 ---
By BOB ETTINGER
AUSTINTOWN
Austintown Fitch girls basketball coach Dan Schnurrenberger urges the Falcons to do whatever they do with confidence.
That trust in their abilities can make all the difference, as it did for Sabria Hunter and Daria Williams in the Falcon' 62-52 home victory over Ursuline on Wednesday.
Hunter, a West Point commit, carried the load for the Falcons with 33 points and 21 rebounds.
Williams' 3-pointer just less than midway through the fourth period jump-started an 11-2 run.
"That was a big shot, momentum-wise," Schnurrenberger said. "We tell the girls, no matter what they're doing, do it with confidence. [Williams]) played with some serious confidence in the second half. When you do that and stay focused, good things will happen for you."
Williams scored seven of the 11 points in that run by Fitch (3-0). Hunter was steady throughout the game.
"I play for my team," Hunter said. "When feel they need me, I play for them. We all play for each other."
Williams added 10 points, including that key 3-pointer.
"We've been told to have confidence when I'm shooting the ball," Williams said. "No matter what happens, I have to put it up there. Yeah, it was just having fun and making sure I do my job correctly."
By the time University of Pittsburgh commit Dayshanette Harris connected on both free throws in the bonus for the Irish (2-3), Fitch held a 56-45 lead with just 57.7 seconds remaining in the game.
Harris finished with 28 points, six rebounds and five steals.
Cara McNally connected on six 3-pointers for 18 points for the Irish.
"I feel like we just never got going," Ursuline coach Vannessa Dickson said. "Ursuline basketball is getting up and down the floor and we got away from that. We like to play fast and we got away from that. I feel like we never got going."
Over the final minute, despite facing an aggressive Ursuline defense, the Falcons managed to maintain control of the game.
Ursuline never really established itself in the contest the way Dickson would've liked.
"I could have told you during warmups we didn't come ready to play," she said. "We were lackadaisical. We took that team for granted. They had that 11-2 run and we just didn't respond. That's from the leadership down. It starts with me. We have to step up the leadership."
Jada Lazaro and Hunter each netted six points each as the Falcons used a 12-3 spurt to close the third quarter to take a 42-34 lead heading into the final eight minutes.
"We can be a dangerous team when we get going on both the inside and the outside," Schnurrenberger said. "The first couple of games, it was Taylor Fronk and Lazaro who had stepped up for us. It was Daria tonight. That's what good teams do. They love each other. They step up for each other and make plays. That's how you win games. I can promise you, these girls love each other."
Lazaro finished with 12 points, all on triples.
More like this from vindy.com