YSU president talks to students about grit, curiosity and selflessness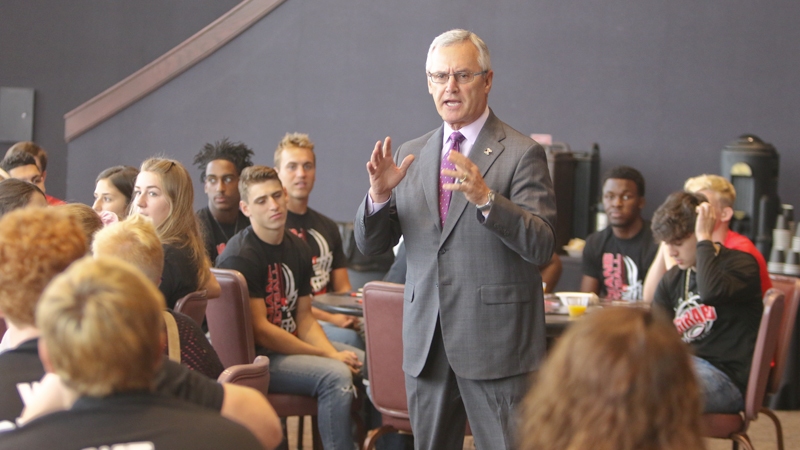 ---
YOUNGSTOWN
Youngstown State University President Jim Tressel told Girard High School seniors there are three things they will need to succeed in life: curiosity, grit and selflessness.
He explained that after years of working with students on the football field and at the university, he has determined that talent and intellect will only get people so far. They need the ability to overcome adversity too.
The students listened to a motivational speech by Tressel and had the chance to ask a student panel questions about college and how to prepare for it.
Angie Cochran, Girard counselor and YSU alum, helped coordinate the event as a way to kick-off the students' senior year. She said she wanted to encourage students who may be stressed about graduating.
"Just hearing [Tressel] speak is enthralling to listen to, so inspirational," she said. Her advice for students as they embark on their senior year is to follow their passion and explore different opportunities.
DeLissa Roth, who studies education at Trumbull County Career and Technical Center, said the speech was enlightening.
Ailene Peyatt, who studies graphic design at TCTC, said it was nice hearing from students who are attending college because it's relatable.
Dominic Kendri said it was interesting to learn more about the opportunities provided by the community and the university.
Tressel reminded students to be grateful for the opportunities they have.
Girard student Gianna Battaglia asked the YSU student panelists how they chose their majors.
One of the YSU students advised that it all works out, and they can take exploratory classes and use campus resources to help decide.
"The average student changes their major three times, so don't let that be a stressor when people ask you what you're going to major in," Tressel said.
The students panel also discussed the best way to pick the right college, internship opportunities and how to adjust to college culture.
After the event, students went for a small tour around the campus.
More like this from vindy.com