U.S. SBA chief visits Youngstown company, delivers Salute to Business speech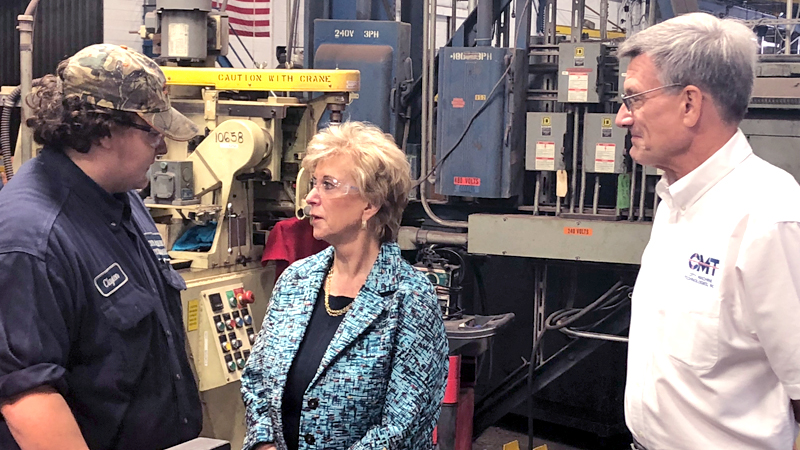 ---
YOUNGSTOWN
When Mike Kovach was preparing to start his own business in 1985, help from the U.S. Small Business Administration was instrumental in making City Machine Technologies Inc. a reality.
"Without the SBA's help, I would not be here today or showcasing our products on the White House lawn," Kovach said. CMT recently represented Ohio at a Made in America product showcase at the White House. "To say the SBA was pivotal in our success would be an understatement."
Kovach shared this Thursday in his introduction of SBA Administrator Linda McMahon at the Youngstown/Warren Regional Chamber's Salute to Business event, where McMahon was the keynote speaker.
McMahon, addressing a room of several hundred, talked about what she described as record levels of optimism among America's 30 million small businesses.
"What's the source of all this optimism? I think a lot of it is what small businesses see in Washington," she said.
McMahon pointed to three Trump administration policies: rolling back business regulations, tax cuts and workforce development initiatives.
"All of these initiatives ... really have just one goal: That's helping small businesses grow and thrive," she said.
Also at Thursday's event, the chamber honored this year's Salute to Business award recipients. The recipients were: Business Professional of the Year, Ryan Behenna, vice president of operations for Arconic Engineered Structures; Nonprofit Professional of the Year, Penny Wells, executive director of Sojourn to the Past; Small Business Person of the Year, Tyler Harden, president of Exospec; Business Advocate of the Year, Rob Gorham, executive director of America Makes; and Entrepreneur of the Year, Charles T. George, CEO of HAPCO.
After her speech, McMahon visited CMT's electric machinery division on Martin Luther King Jr. Boulevard.
Kovach said CMT has benefited from regulatory reform and tax cuts, as well as an uptick in business that he attributes to "a businessman in the White House."
CMT, like other manufacturing businesses, has struggled to find qualified, drug-free employees to fill jobs there. Kovach said about 50 percent of applicants fail drug screenings, even after being told they will be tested.
McMahon, noting an apprenticeship program Trump created with an executive order, said the president "is very dedicated to helping grow a skilled workforce."
More like this from vindy.com