Girls cross country takes third at Salem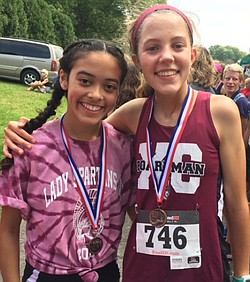 Photo
Neighbors | Submitted.Senior Sophia McGee placed sixth and sophomore Alayna Cuevas placed nineth overall at The Salem Early Bird Invitational.
The Boardman girls cross country team placed third overall at the Salem Early Bird Invitational on Aug. 25.
There were more than 187 participants running the 5K course at Memorial Park and the Lady Spartans were represented well. Leading the pack for Boardman were senior Sophia McGee, placing sixth overall with a time of (20:37), and sophomore Alayna Cuevas, placing nineth overall with a time of (21:00). Following McGee and Cuevas were sophomores Julia Gorby and Bailey Moore, placing 15th and 18th overall. Gorby ran a (21:46) and Moore (21:58). Finishing out the scoring for the varsity team were senior Macy Potts (22:41), junior Hannah Davitt (23:39) and senior Hannah Ryan (23:51), placing 33rd, 42nd and 44th, respectfully.
"I am very impressed with the maturity I've seen in these girls and I'm looking forward to another successful year," said Coach Stacey Hunter.
Sophomore Isabelle Dwyer cracked the top 50, placing 47th overall with a time of (23:57). Following Dwyer in was Gina Gabriele (24:21), Ally Schwendamen (23:34), Jordan Solemen (24:34), Alexis Kaleda (24:52). Also running for the Lady Spartans was Emily Olexa, Dre'Ana Elliot, Adrianna Quinlan, Isabella Roush, Jillian Rivera, Sydny Freemen, Kayla Kaleda, Katelyn Manning and Aubriellen Wheatley.
More like this from vindy.com