The thrill is on at 172nd running of Canfield Fair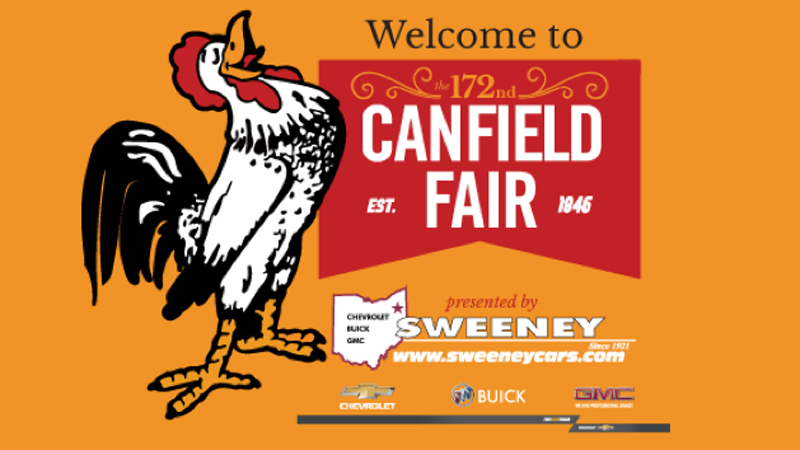 ---
Gates to the one-of-a- kind Canfield Fair, what many describe as the single largest event of the summer in Northeast Ohio, swing wildly open today.
From now until the gates close on the 172nd edition of the exposition late Monday night, thrills of many and assorted varieties will be in abundant supply for hundreds of thousands of jubilant and appreciative patrons.
Indeed, there are just about as many reasons for attending the 2018 Canfield Fair as there are people who visit it. As the theme of this year's fair quite aptly points out, "You Are The Canfield Fair."
Whether you are attracted to the state's largest county fair because of its diet-busting food fare, its entertainment highlighted this year by a performance by country superstar Toby Keith, its 4,000 assorted farm animals, its diverse educational exhibits, its health and fitness displays, its many vendors or any of its hundreds of other delights, the Canfield Fair would not enjoy its superlative reputation around the nation were it not for all of the many "you" guys and gals who plan, volunteer and attend the Mahoning Valley's signature end-of-summer event.
NEW RIDES ABOUND
This year, however, promises a whole new set of bigger and more exciting thrills for the masses of fair-goers. For the first time in 35 years, the Fair Board has contracted with a new ride company – the 122-year-old Reithoffer Shows of Florida. Over the past two weeks, its crews have toiled in torrid heat at the fairgrounds erecting 52 sleek rides, noticebaly more than the 45 rides on midways last year.
That's sure to please thrill-seekers of all ages. What's more the new "Cedar Point" caliber rides, as one Fair Board member described them, will also add a distinctive European flair to this singularly American tradition. Rides hail from such faraway lands as Germany, Italy the Netherlands and other nations across the Atlantic.
For those looking for bone-chilling thrills, they need look no farther than the $1 million Galaxy roller coaster, the first adult roller coaster on the fairgrounds in decades. Others may gravitate toward the Dutch Wheel for a gentle panoramic 120-foot tall view of the fairgrounds. Still others in the mood for a dizzying spin in five different directions may climb aboard The Tornado.
WHAT'S OLD IS NEW
While the new set of rides may be among the most noticeable changes at this week's fair, each and every year, what's old becomes new again as dedicated fair board members, planners and volunteers work diligently to put fresh coats of enjoyment onto the renowned and expansive playground and learning laboratory.
This year, for example, mule racing will return to the fair after an approximate 50-year absence. Only one other fair in the state reportedly boasts that historic attraction.
Mules will be under saddle instead of hitched to carts in Monday's event with purses as high as $500.
For those who enjoy more 21st-century amusements, the 172nd fair will feature robotics and other state-of-the art STEM [Science, Technology, Engineering, Mathematics] in Building 44.
TRADITIONS ENDURE
In many respects, however, much of the allure of the fair lies in its bedrock traditions. Though it has matured and diversified over the years to include a variety of city-slicker attractions and foods, the heart and soul of the fair still lies deeply in its rich agrarian roots.
The Mahoning County Agricultural and Horticultural Society, founded in Canfield in 1846, established its Grand Annual Fair to bring together the people and their products to compare notes and relate experiences.
Today, that tradition endures with fresh farm products, livestock, poultry, massive pumpkins, antique tractors and other tools of the farming trade proudly on display.
To be sure, the fair remains in part a celebration and appreciation of Mahoning County farmers. At Canfield Fair time – and all of the time throughout the year – they provide nutritious food for our tables and vital fuel for our local economy.
So tip your hat to a farmer this week when visiting what we're hoping will end up ranking as one of the largest, most successful and definitely most thrilling Canfield Fairs in history.
More like this from vindy.com