Pelini excited about his team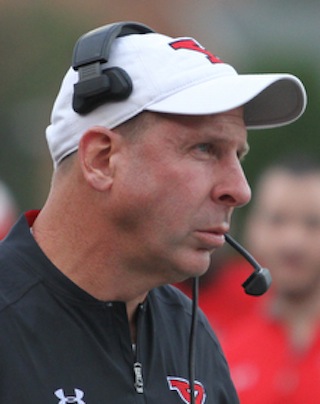 Photo
By BRIAN DZENIS
bdzenis@vindy.com
YOUNGSTOWN
After an offseason that's seen a lot of change on and off the field due to season-ending injuries and a shuffling of the coaching staff, it's time for Youngstown State to show what it has. Head coach Bo Pelini may not have all the players he wants for Saturday's season-opener against Butler, but he believes in the team he has.
"People can talk about what goes on at the [FBS] level or whatever else, but if you're walking in here, you're going to see good football. When you walk into this stadium, you'll see Division I football," Pelini said at his first weekly press conference on Tuesday. "I'll take our football team against anybody, anywhere and anytime. I'll take our coaching staff up against anyone in the country. We'll go out and compete against anybody."
The Penguins are looking to bounce back from last year's 6-5 campaign, a letdown following a trip to the Football Championship Subdivision national title game after the 2016 season. YSU will have to do that with a new quarterback and a retooled defensive line and secondary.
"Last year taught us not to be complacent and not to live in our success," senior defensive end Johnson Louigene said. "We're not going to let that happen again. We're focused on not getting complacent and on the next game and to treat it with the highest priority."
The Penguins took some hits with defensive end Justus Reed (Achilles') and safeties Kyle Hegedus (ACL) and DeShon Taylor (spine) out for the year, the injuries happened early enough in camp for Pelini to make adjustments. For Reed, there's a set four-man rotation. The safety situation is solved with Avery Larkin at free safety and sophomore Terray Bryant at strong safety. Bryant, a converted linebacker, was a camp star who got a lot of praise from the head coach.
"We I wanted to move Terray from linebacker to safety, the guys looked at me like I was nuts. I've been around him for a couple years now. He's smart. He's instinctive. He's a football player. He's very athletic," Pelini said. "I know he's going to be physical and tackle. In the first scrimmage, he had two interceptions. He's a good player and he understands it."
Last year's defense was the second-best in the Missouri Valley Football Conference in points allowed despite the departure of Derek Rivers and Avery Moss to the NFL. It wouldn't be wise to count out a Pelini defense.
"[The defense is] going to be very fast and very aggressive," Louigene said. "We're coming down to — I don't want to use cuss words or anything — but we're playing a very aggressive game."
MONTGOMERY STANDS ALONE
While there was some talk of possibly rotating senior quarterback Montgomery VanGorder with junior Nathan Mays in camp, that's not an option for Saturday.
Mays is unavailable and has been dealing with nerve issues in his leg. Redshirt freshman Joe Craycraft will back up VanGorder, Pelini said.
VanGorder will be making his first start at quarterback since his days at Buford (Ga.) High School, where he quarterbacked the team to two state titles.
"I'm just excited to go out and play. You can't replicate that feeling," VanGorder said. "Obviously, there's going to be a little bit of nerves. If there isn't nerves, there's probably a problem. I'm excited to go out and compete and win."
NOT ABOUT THE NUMBERS
A reporter brought up a particular stat about Butler — the number of sacks conceded last season — and Pelini revealed he isn't the biggest fan of statistics and is a visual evaluator.
"Film doesn't lie. I don't get caught up in our numbers and I'm really not going to get caught up in the opponents numbers," Pelini said. "I usually decipher what we need to do by watching the film. I've been around coaches who pull out the stat sheets, but I pull out the film."
Other than paying attention to tendencies or for establishing who are the key players on a team, he's sticking with film.
"I'm not caught up in how many sacks or yards rushing. I can see that on film," Pelini said. "I believe statistics lie all the time. You can get into garbage time or whatever. After a game, you're on to the next one and those numbers from the previous game don't mean anything.
"I'm about what I see and I've been doing this a long time. I have a good handle on how to prepare."
More like this from vindy.com