Judge denies temporary restraining order to opponents of TJX project
Staff report
WARREN
TJX ruling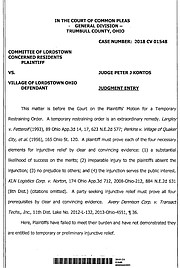 Document
Judge Peter Kontos of Trumbull County Common Pleas Court has denied the temporary restraining order requested by residents of Lordstown who challenged the state law enacted to speed up the process of putting a referendum on the ballot.
Judge Peter Kontos of Trumbull County Common Pleas Court late Tuesday denied the request of a group of Lordstown residents for a temporary restraining order regarding the proposed TJX distribution center project.
The case will proceed to a Sept. 11 permanent injunction hearing.
The temporary restraining order, and accompanying injunction request, challenge the constitutionality of two sections of House Bill 292, which Gov. John Kasich signed into law in June.
HB 292 expedited the referendum process that opponents of the rezoning initiated in an effort to overturn the 3-2 rezoning decision of Lordstown Village Council.
Lordstown residents affirmed the rezoning a week ago 77 percent to 23 percent at the polls.
The company is proposing to build a distribution center near the Lordstown exit of the Ohio Turnpike that is expected to create about 1,000 jobs.
Lordstown Mayor Arno Hill, who said he is "100 percent in favor of the TJX project," applauded Judge Kontos' decision to deny the TRO to halt the project.
"I hope once this gets put behind us and the project gets underway that the community can come back together," the mayor said.
The village's filing argued that none of four necessary elements exist that would be needed for the judge to approve the temporary restraining order:
That there is a substantial likelihood the group will be successful later in getting a permanent injunction.
That the group will suffer irreparable harm if the TRO is not granted.
That third parties will not be unjustifiably harmed of the TRO is granted.
That the public interest will be served by the TRO.
Judge Kontos' ruling mentioned the same four "necessary elements" and said the group "failed to meet their burden and have not demonstrated they are entitled to" a temporary restraining order.
The village said the group seeking the order "will not suffer any irreparable harm if an injunction is not granted because they do not own the 290 acres [that was rezoned] or have any property rights with respect to the 290 acres."
The village's filing said a delay of the TJX project because of a temporary restraining order "will cause irreparable harm to the Village of Lordstown" and others because of the estimated $170 million investment the project represents.
Dave Nichol, attorney for the group seeking the order, did not return a phone call seeking comment Tuesday.
More like this from vindy.com