Corner kick gets Howland off to fast start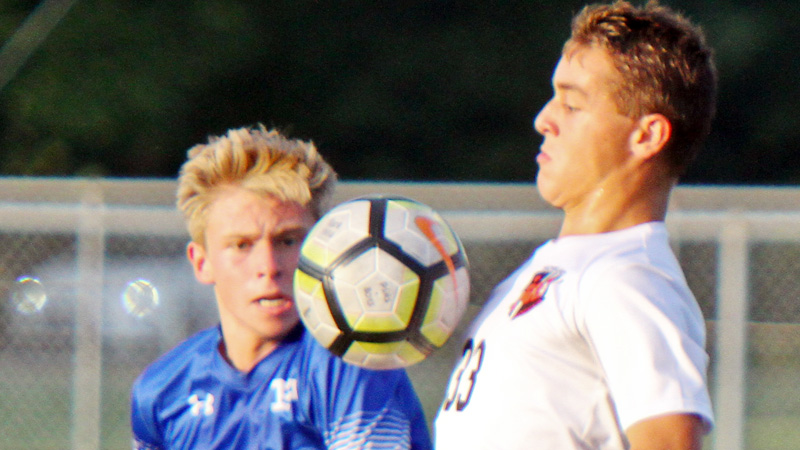 ---
POLAND HOWLAND BOYS SOCCER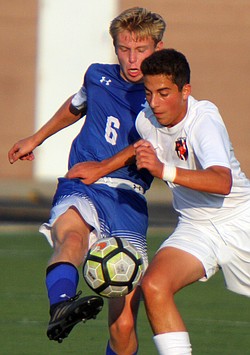 Gallery
POLAND HOWLAND BOYS SOCCER
By BOB ETTINGER
sports@vindy.com
POLAND
Francis Cesta stumbled onto something Howland boys soccer coach Brian Stiles liked as the Tigers warmed up for a 4-0 victory over Poland at Dave Pavlansky Field on Tuesday night.
As Cesta was practicing his corner kicks, Stiles noticed Cesta was bending he ball toward the net. It didn't take long for the Tigers (1-0-1) to put that ability to use. In the second minute, Cesta went at the corner and instead of serving the ball to the head of a teammate, bent the ball around and over the head of Poland goalkeeper Zack Nemeth for a 1-0 Howland lead.
"I think the sun might have played a part," Stiles said. "We noticed in the pregame he was bending the ball in. I don't know if it was intentional or unintentional. Either way, it was a great start."
The Tigers added to that advantage in the third minute when Pano Gentis found the back of the net.
That start was exactly what Stiles was hoping to get from the Tigers.
"All summer long, we've gotten off to slow starts," Stiles said. "In the first 10 or 15 minutes, we're usually down, 1-0 or 2-0. Tonight, we focused on that and got off to a good start. We tweaked a couple of positions up. Other than that, it's a young team learning what doesn't work and what does work."
For the Bulldogs (0-1-1) it was a start with which they've become all too familiar.
"We were on our heels," Poland coach Brian Garcar said. "We were ready to play. We've been talking about this game since [last] Tuesday. They took it right to us. We dug ourselves into a hole it was difficult to get out of right from the beginning."
The second half didn't start much differently. Dominic Malvasi got behind the defense and scored on a feed from Jordan Sperling in the sixth minute for a 3-0 Howland lead.
With just more than 10 minutes to go, Gentis tallied again for the Tigers after a shot was deflected his direction and he put it in the net.
"We've been working really hard on our combination play up top," Stiles said. "Something we've talked about all week is focusing on playing for each other. That's something, obviously, tonight we did pretty well."
Donato Marsco and Lucas Brill (one save) combined on the shutout with the help of a stellar defense.
"That was a very good offense coming at us," Stiles said. "We focused on limiting their opportunities. They have very good speed and good skill. I think they're going to have a good season."
Poland attempted just one shot on goal, then it appeared they had solved the puzzle a few times only to come away without even an attempt.
"They were just a step quicker than us at just about everything the entire night," Garcar said. "[Counterattacking after the Tigers pushed everyone forward to help offensively] was one adjustment we made after that first water break. We saw they were pushing forward and we wanted to push to expose those gaps. We created a little bit out of it, but we slowed up in the final third. Our touches were a little off."
More like this from vindy.com