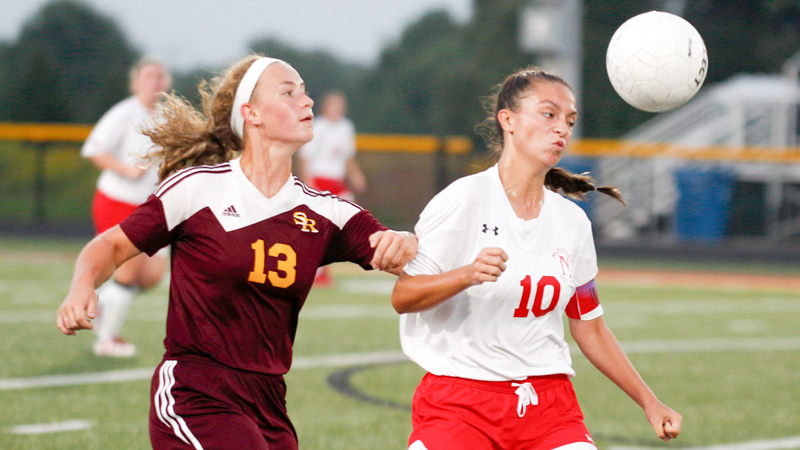 ---
South Range v. Niles McKinley Girls Soccer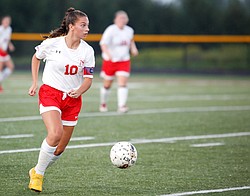 Gallery
By BOB ETTINGER
sports@vindy.com
BEAVER TOWNSHIP
Niles girls soccer coach Scott MacMillan describes Jaycee Ward as a blue-collar type player who will simply do whatever he asks of her.
On Monday night, he asked her to lead an offense that was missing five players. Ward simply clocked in and went to work.
Ward scored the go-ahead goal before dropping back to defense to preserve that lead in a 4-3 victory over South Range at Raiders Stadium.
"She's an amazing player," MacMillan said. "If she's not the best player, she's one of the top two or three players in the district.
"She's easy to coach," MacMillan said. "She's one of the players I asked to come through and she doesn't ask for anything in return. She doesn't look for the glory.
"She's a blue-collar player back from the old school. She had to play a lot of places. She was up top, in the middle and in the back."
Ward attacked the goal from the right sideline, drew out South Range goalkeeper Elizabeth Venesky and calmly knocked the ball into the far back post to put the Red Dragons (3-0) up, 4-3, with 15:29 to play.
"I just realized there was all this space on the far side and the sideline was always open," Ward said. "I heard the girl coming after me and I knew I only had one chance."
Ward admitted she was surprised it went in.
"But I didn't doubt myself, especially with the goalkeeper coming out as fast as she was."
The goal shifted momentum back in favor of Niles after the Raiders (1-1) had scored a pair of goals early in the second half.
"[Ward] made a nice play to draw out the goalkeeper," South Range coach Paul Lindstrom said. "Sometimes, our keeper plays too passively. At the half, I told her to play more aggressively.
"At the end of the day, it was their goal. It was a good goal."
South Range had erased a 3-1 halftime deficit after Bree Kohler got behind the defense and beat goalkeeper Caroline Thomas in the fourth minute of the second half.
Rachel Maynard scored on a penalty kick in the sixth minute to knot the score, 3-3.
"We came right back after the half," Lindstrom said. "At the half, I had said we just had to get one. Give them something to think about. The girls never backed down. They went right back at them. They showed lots of character."
Hailey Esposito gave the Red Dragons the lead four minutes into the match before Kohler knotted it, 1-1, eight minutes in.
Ward broke the tie with a tally with 15:38 to play in the half and Brandi Baker scored from 22 yards out for a 3-1 Niles advantage with six minutes to go.
"Some kids stepped up who don't normally have to play extended minutes," MacMillan said. "When they don't play 70 or 80 minutes, they tire. That's hard on them.
"South Range played hard. Any time you go into the house of a well-coached team, it's tough. We weren't as mentally strong as we could be, but we fought hard."
More like this from vindy.com