DeWine criticizes Democratic opponent over his prior job as AG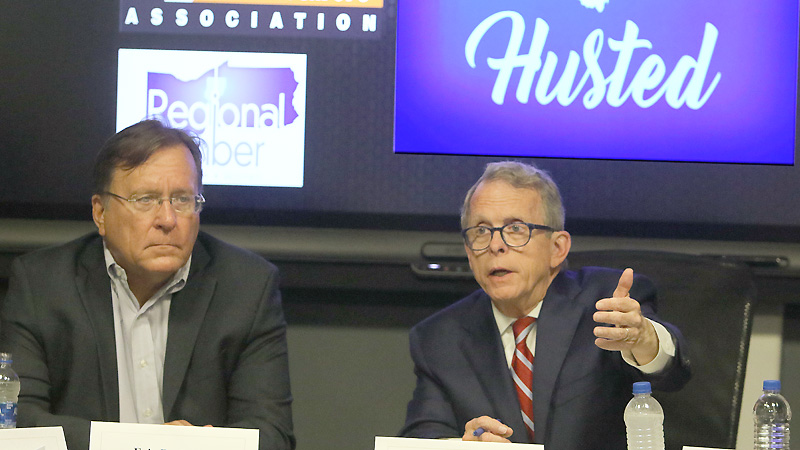 ---
By DAVID SKOLNICK
skolnick@vindy.com
YOUNGSTOWN
While campaigning in Youngstown, Attorney General Mike DeWine, the Republican nominee for governor, said there's clear differences between him and Rich Cordray, his Democratic opponent.
DeWine said Monday during a stop at Taylor-Winfield Technologies Inc., a capital equipment manufacturer, the distinction between the two is how they both conducted themselves as attorney general.
Cordray was elected in 2008 to Democrat Marc Dann's unexpired term and lost his re-election bid in 2010 by 1.2 percent to DeWine, who's finishing his eighth year in the job.
"I'll give you two examples where we got things done, we made a difference and Richard Cordray simply did not," DeWine said. "One is in the state crime lab. The day I took office if there was a rape in the Mahoning Valley and that evidence – unknown DNA – was taken to the state crime lab it would have sat there on average for 125 days before anyone ever touched it. We fixed that. We got the time down to three weeks. We turn cases around in 24 hours."
He added: "The other thing that is a direct comparison is the old rape kits that were sitting in police departments all around the state of Ohio. Richard Cordray did nothing about those. When I became attorney general, we sent out the word that we wanted to test them, bring them to us. We've now tested almost 14,000. We've got matches or hits on 36 percent. We've had hundreds and hundreds of rapists who've been indicted and probably the most important thing is we've achieved justice for victims. It was the right thing to do. So a direct comparison: I've been able to do things that make a difference, fight for people and I will continue to fight for people. Richard Cordray simply does not have that record."
In a response to The Vindicator, Cordray said: "We all know Mike DeWine can find a way to play politics with just about any issue. I am sad to see him now doing it again in this campaign on something as serious and sensitive as rape kits.
"The reality is that DeWine let the statewide backlog of rape kits fester in office for seven years before finally getting them all tested. He now claims that I should have processed 14,000 rape kits from around the state in the last five months of my term as attorney general. If that is true, then Mike DeWine has been a mammoth failure for rape victims in Ohio. By his own logic, he should have had this all done in 2011, but it was not until February of 2018, during an election year, that he has now claimed to have eliminated the rape-kit backlog."
As for the state crime lab issue, Cordray said, "When I was attorney general, the issue of processing times for DNA evidence in the state crime labs came to my attention after I began cleaning up the office after the scandals of the [Dann] administration, and we took quick and effective action on it. During my first year, the steps we took to speed up processing times led to a 45-percent acceleration in DNA testing and a 68-percent acceleration in forensic biology testing."
While at Taylor-Winfield, DeWine had kind words for longtime friend U.S. Sen. John McCain, a fellow Republican who died Saturday. He called him "an American hero." But when specifically asked if President Donald Trump, also a Republican, responded appropriately to recognizing McCain's death, DeWine said, "Look, I'm not going to get into that."
Trump has endorsed DeWine's gubernatorial campaign.
Regarding McCain, who DeWine backed for president in failed bids in 2000 and 2008, the attorney general said: "He is someone who throughout his political career said what he thought. Sometimes people didn't like that, but he was a very, very candid and very courageous person."
DeWine added, "He was someone who was always country first. Whether you agreed with him or didn't agree with him, he called it like he saw it. He was telling the truth as he saw it."
More like this from vindy.com