Bishop expected to return to work on a part-time basis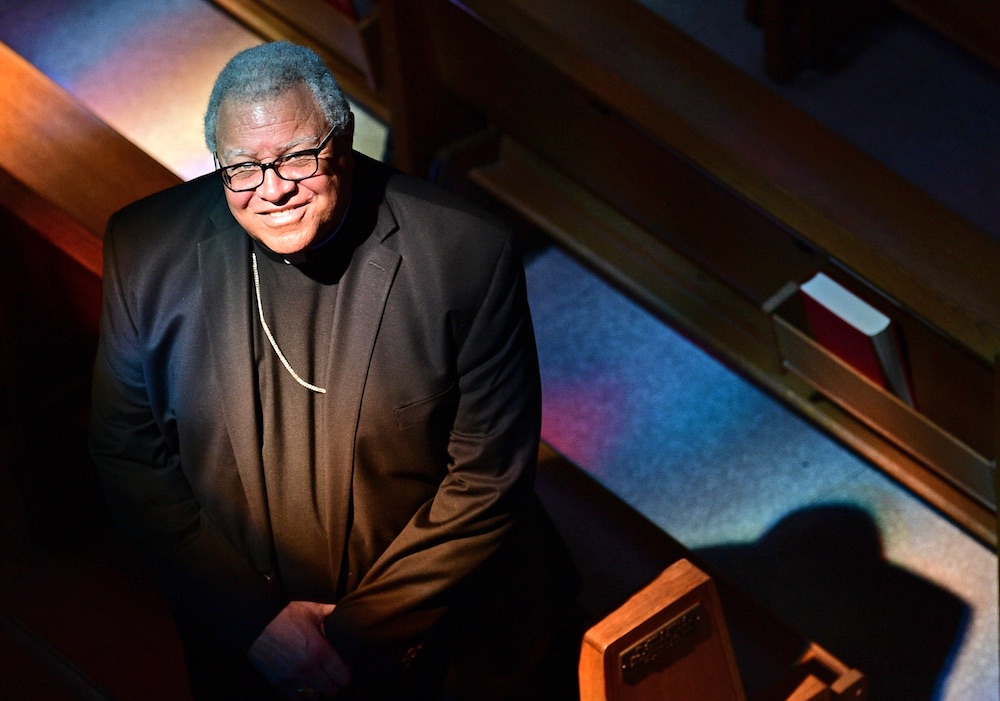 ---
By JUSTIN DENNIS
jdennis@vindy.com
YOUNGSTOWN
The Roman Catholic Diocese of Youngstown on Monday announced Most Rev. Bishop George Murry plans to return to work Sept. 4.
The diocese has set a news conference that day at the diocese offices along West Wood Street, during which Bishop Murry is expected to address his recent illness.
Bishop Murry was diagnosed with acute leukemia in April and underwent intensive chemotherapy. He remained indirectly involved with diocesan matters while undergoing treatment and recovering, but is now expected to return to the diocese "on a part-time basis."
In a separate and unrelated statement released by the diocese, Bishop Murry wrote he was "disgusted and angry" over sexual abuse allegations against former Cardinal Theodore McCarrick.
McCarrick resigned in late July after decades-old sexual abuse allegations were found to be credible. Last weekend, area religious leaders at all parishes read the letter, dated Aug. 22, which calls for ministers and parishioners to come forward about sexual abuse, according to diocese chancellor Monsignor John Zuraw.
"The vast majority of priests are men of faith in God and dedication to the Gospel," Bishop Murry's letter reads. "You and I trust those men with good reason but some of them have betrayed that trust in ways that are sickening and difficult to speak about in public. This betrayal is sinful, it is evil, and it is a crime where minors are involved.
"I am very sorry that the church has failed to act aggressively to eliminate this evil."
Bishop Murry urged ministers who have committed sexual abuse to "immediately resign" from the ministry and said those who failed to act on or covered up reports of sexual abuse in the church "should be removed from office." He urged those who believe they were abused to contact authorities or the diocese's victim assistance officer at (330) 718-1388.
Bishop Murry also suggested creating a "Truth and Reconciliation Commission" wherein sexual abuse witnesses may tell their stories and perpetrators may "give testimony and request forgiveness."
Monsignor Zuraw said Monday the Youngstown diocese has taken steps toward more transparency and thorough, state-sanctioned vetting and training, but said the allegations against McCarrick mean the church must not become "complacent."
"We cannot continue to say 'this is all right,' because, no ... there are victims out there and when those victims are ready to come forward, the church needs to be ready (to support) these victims," Monsignor Zuraw said.
In 2016, the diocese reached a $900,000 settlement with 28 former Warren John F. Kennedy High School students who alleged former Franciscan friar Brother Stephen Baker sexually abused them while working at the school from 1986 to 1991.
Baker committed suicide in 2013, shortly after the first alleged victims came forward.
In 1996, a New Hampshire court sentenced Robert Burns, a former Catholic priest who had several Youngstown- and Warren-area assignments, to prison for luring and molesting two boys, according to the Worcester Telegram and Gazette.
The publication reported Burns was a priest with the Archdiocese of Youngstown from 1975 to 1981 and left the priesthood in 1991 to undergo treatment for pedophilia.
Representatives from the Survivors Network of those Abused by Priests declined to comment on Bishop Murry's statement Monday.
More like this from vindy.com