Volunteers pitch in to clean up, beautify Lincoln Park walkway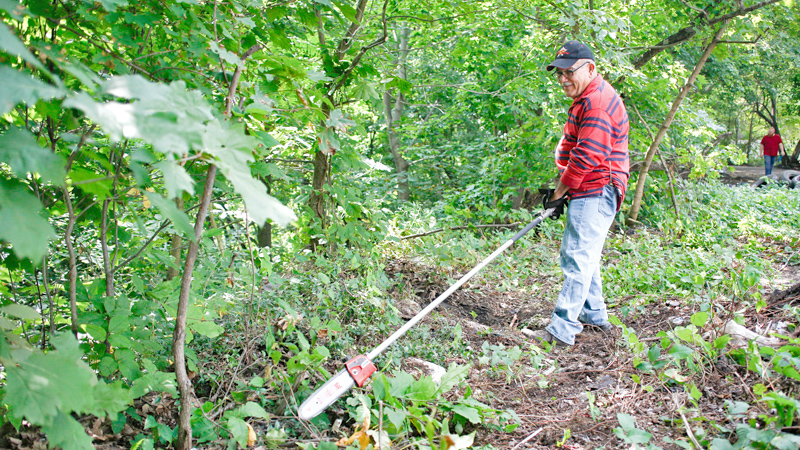 ---
By Sean Barron
YOUNGSTOWN
A mere matter of hours was all that was needed to transform a long-abandoned walkway from an overgrown, trash-strewn eyesore to an area that promises to be a green oasis.
"This is something that had to be done; it couldn't stay like this. This was unacceptable," said Victoria Valentin, referring to the condition of a quarter-mile walking path through Lincoln Park that was nearly invisible because of the amount of garbage and debris covering it.
Instead of simply complaining about the neglect, Valentin, who lives near the East Side park, was happy to get her hands dirty by being part of Saturday's communitywide effort to clean, beautify and improve the path and surrounding areas.
Greatly aiding in the seven-hour cleanup was a $20,000 Lowe's and Keep America Beautiful Community Partner grant. Much of the funding also will be used to add new fencing to one side of the paved walking path, along with lighting, cameras, dog-waste stations, trash receptacles, entrance gates and benches, noted Jennifer Jones, program coordinator for Green Youngstown, which spearheaded the cleanup.
Those additions are slated for mid-October, she said.
Even though the road was closed years ago to discourage illegal dumping, such activity continued because dumpers simply accessed it via vacant lots, Jones explained. Saturday's cleanup was essential largely because of the problem, though the improvements should prevent the area from any longer being a dumping site while making the walking path and surroundings more sustainable, she continued.
Green Youngstown also worked in partnership with the city street department as well as Youngstown Parks Department, a neighborhood community-watch organization and nearby St. Angela Merici Roman Catholic Church.
Valentin joined an estimated 60 neighborhood residents, church parishioners, Youngstown State University students and others to get rid of a variety of trash along the path and a large area on and at the bottom of a steep embankment. Volunteers also removed brush, debris, dead branches, weeds and overgrowth.
"Before, you couldn't walk in here, but now you can smell fresh air," said Valentin, a five-year St. Angela Merici member.
She also expressed gratitude that many children will have an added safe place to play as well as another opportunity to see the results of community collaboration and engagement.
Also pitching in was Valentin's husband, Raul Valentin, who brought a long gas-powered pole saw to cut much of the overgrowth and make the walking path more easily accessible. He estimated that about 800 discarded tires were collected.
Participants also picked up trash that included roof shingles, items from someone's deck, metal fragments, a twisted window screen, a small and dilapidated reclining chair, wire mesh, shards of glass and a mangled car frame. Also removed were the usual items, including plastic bottles, cigarette butts, rocks and bricks.
Filling her plastic garbage bag with everything from glass bottles to car parts was YSU freshman Audrey Hoag, an English and sociology major.
"I have a bag with a pair of windshield wipers, lots of glass bottles and such, and I picked up a couple of shotgun shells earlier," said Hoag, who added that she has an aversion to litter.
Hoag, who also helped remove a fallen telephone pole, recalled having taken part in cleanup projects with friends along major roadways in Lancaster, Ohio, where she's spent most of her life.
"As I look at it, this is just the beginning to bringing back the area. This park has so much potential and just needs some TLC," added city Councilman T.J. Rodgers, D-2nd, whose ward includes the park and much of the East Side. "I'm just here to pitch in."
Also pleased with the cleanup's progress and momentum was Diana Hancharenko, St. Angela Merici's young-adult minister, who said she was grateful to see that mounds of trash and foul odors were removed.
"We felt called to coordinate these cleanups as good neighbors and to care for God's creation," said Hancharenko, who noted that her church has taken part in previous such efforts.
Dawn Turnage, Youngstown Parks and Recreation Department director, said preliminary work was done a few days before the cleanup, including cutting down some large fallen trees. The department provided dump trucks to haul away much of the trash and debris.
Volunteers are needed to assist with the second leg of the path restoration project, which is set for 8 a.m. to 3 p.m. Oct. 13 at St. Angela Merici Church, 397 S. Jackson St. Those interested are asked to call the church at 330-747-6080.
More like this from vindy.com