Valley native co-founds piano bar that has quickly become a ... Hollywood hotspot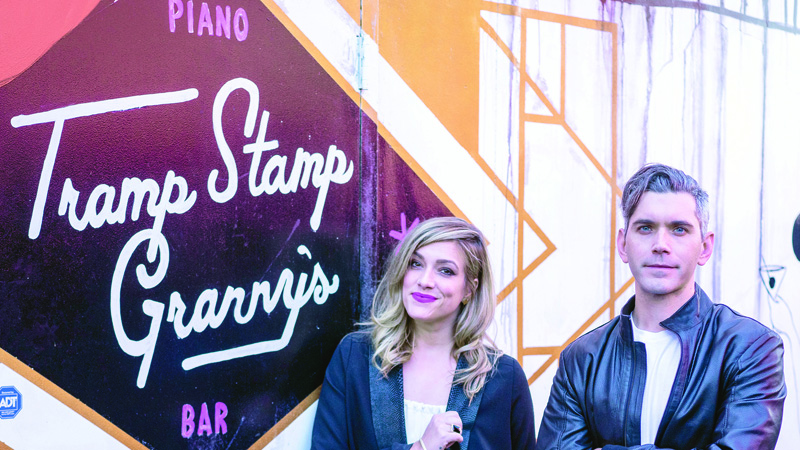 ---
By GUY D'ASTOLFO
LOS ANGELES
One of the hottest new nightspots in Hollywood is Tramp Stamp Granny's, a New York-style piano bar that has been drawing actors and celebrities for sing-alongs ever since it opened.
It's the latest business startup for Poland native Danny Massare, who remains a co-owner and operator. His partners are actor Darren Criss ("Glee," "The Assassination of Gianni Versace") and his fiancee, Mia Swier.
Criss, in fact, occasionally fills in as a pianist, leading the boisterous crowd in singing pop songs, show tunes, classic rock and standards.
The bar on North Cahuenga Boulevard has been an immediate hit since it debuted in April. The list of Hollywood and television stars who have visited includes Jon Hamm, Andrew Skarsgard, Jake and Maggie Gyllenhaal, Emma Roberts and many more.
"[Criss] is a rising star and he invites them," said Massare, a 2000 graduate of Poland Seminary High School, in a phone interview. "He is also a fantastic pianist and singer."
As if confirming its status as a Hollywood hot spot, The Hollywood Reporter published a feature story and photos on TSG's – as its neon sign reads – two weeks ago.
While piano bars have long been fixtures in East Coast cities, they haven't made an impact in Southern California – until now.
Massare and his business partners modeled TSG's after a piano bar in New York and had a feeling it would catch on immediately.
The room is on the small side – it has a capacity of 127 – which makes it cozier every Friday and Saturday night when it is packed with customers yelling out requests and loudly singing. There are six pianists in the rotation, with two working on Fridays and Saturdays.
"The pianist curates the evening from what the people want to sing," said Massare. "It's a rowdy sing-along type of vibe and everyone is part of the experience, even the staff."
The TSG's experience also includes singing staff. Massare said finding bartenders, waiters and bar-backs who can sing is not difficult in Los Angeles.
"It's a city of talented people," he said. "Every day, people drop off resumes."
Housed in the former Beauty Bar location, TSG's has a glamorous art-deco interior that balances between kitsch and class. Its walls are decorated with pink glitter, tattooed bodies and neon.
The theme also runs through the bar's lineup of custom cocktails, which have names such as "Actress/Waitress/Mattress" and the house special "The Tramp."
Massare is in TSG's every day during business hours, and occasionally during the evening as well. He's likely to maintain that level of involvement.
While he typically sells his startups after a while and moves on, Massare feels differently about TSG's.
"This place is special, and it would take a hefty price tag for me to sell and walk away," he said.
Tramp Stamp Granny's is the fifth business he started in Los Angeles, and the first bar.
"It feels great to have a place that people really enjoy," he continued. "I am the type who is always looking ahead and I rarely celebrate anything business-wise because I've seen ups and downs, but it's nice to relish for a minute the fact the bar is doing so well."
Massare's first startup was a real-estate investment firm, which was followed by two high-end jewelry companies and a health-food cafe in West Hollywood.
He has also worked as a banking consultant and is now in the process of starting a management consulting company to advise startup business owners.
"Anyone who is an entrepreneur knows it takes a lot of failure before you can recognize an opportunity for success," he said. "You have to be hard-working and have all the pieces in place, but you also must have a novel idea to differentiate yourself."
Massare moved to Los Angeles right after graduating from Indiana University in the mid-2000s, and brought his Youngstown work ethic with him.
"I'm proud of being from Youngstown," he said. "Hard-working, good people come from there, and I want to welcome anyone from Youngstown who [comes to LA] to come to Tramp Stamp Granny's, because someone from their neck of the woods will be there."
More like this from vindy.com