Springfield gets tricky to beat South Range
South Range v. Springfield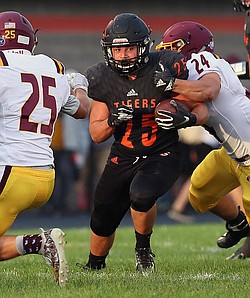 Gallery
By BrIAN DZENIS
NEW MIDDLETOWN
A boilermaker and a brick house came together to beat South Range.
Springfield executed a complex trick play and just played straight-up good football in the second half to defeat rival South Range, 20-13.
Late in the third quarter with the score tied 6-6, Tigers coach Sean Guerierro called for a play known as "boilermaker" to offensive coordinator Mark Brungard.
"I went to [Ohio University] this year and we looked at their trick plays and that was one of them," Guerierro said. "We practiced it about 20 times over doubles and I just thought it was a good time to call it.
"Coach Brungard said, 'Heck, let's do it.'"
The play started simply enough, quarterback Brannon Brungard handed the ball off to running back Luke Snyder. He then pitched the ball to wide receiver Garrett Walker, who looked as if he would run a reverse. The real surprise came when Walker flicked the ball back to Brungard, who hit an uncovered Shane Eynon for a 43-yard touchdown pass.
"I always thought it would be some play that we would just run in practice and it would never come up," Snyder said. "Coach Guerierro made the call and we looked at him funny, but it definitely worked."
South Range managed to tie the game two minutes later when a Springfield snap sailed over Eynon's head toward the end zone when the Tigers were trying to punt.
Eynon made his way back to the ball and punted it, with a deflection giving the Raiders the ball at the Tiger 25. One play later, quarterback Issac Allegretto was in the end zone when he called his own number.
Springfield (1-0) responded by handing the ball to Snyder, who Guerierro refers to as "a brick house." Snyder broke of a 70-yard run for the game's deciding touchdown.
"That was the greatest dagger," Snyder said. "It was the perfect combination to work."
Snyder finished the game with 138 rushing yards to go with his score. Including Brungard's 21-yard touchdown pass to Walker to cap off the opening drive of the second half, Springfield scored all of its points in a little under seven minutes.
"[Coach Guerierro] said that we know we can play to our full potential and we haven't yet," Walker said of adjusting for the second half. "I think we just came out with a different mentality and we played to our full potential."
Two fourth quarter turnovers spelled doom for South Range (0-1). The Raiders drove to the Tiger 15 when Allegretto lost the ball and Walker made the recovery.
South Range got one more chance to tie the game with three minutes left to go. The Raiders faced a tough fourth and 16 with 1:47 left in regulation. Snyder intercepted Allegretto to seal the win.
"It's a game of plays. We're going to go through them tomorrow and see the things we didn't do right on them," Raiders coach Dan Yeagley said. "Some of that is a credit to Springfield. "We can't give up things here and there. There were a lot of mental errors."
Trent Harrold rushed for 92 yards for the Raiders. Allegretto had 92 passing yards, including a 6-yard a TD pass to Chris Brooks.
More like this from vindy.com