Banged-up O'Horo returns to sting East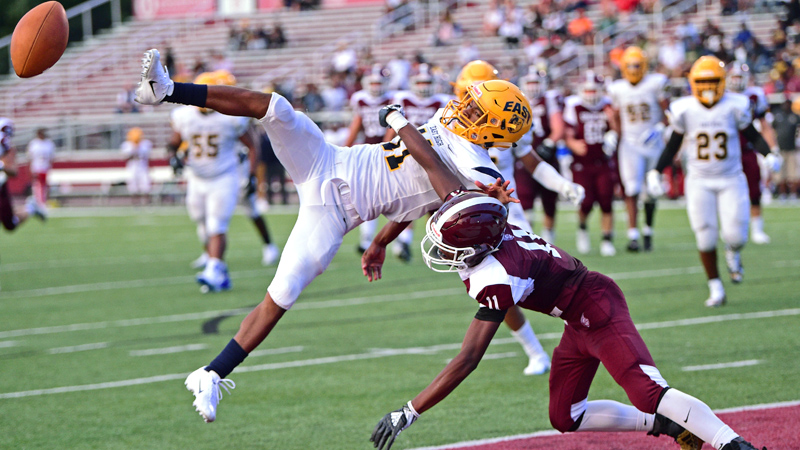 ---
Boardman v. East Football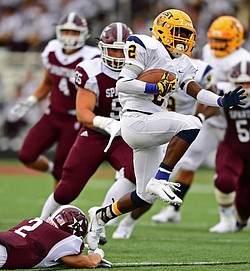 Gallery
QB helps Spartans cruise in opener
By MIKE McLAIN
BOARDMAN
Don't ever say that Boardman Spartans senior quarterback Mike O'Horo won't take charge of a situation.
O'Horo appeared done for the night when he limped off the field early in the third quarter with an apparent lower right leg injury after a run of 7 yards.
But on the next Boardman possession, O'Horo calmly walked into the huddle and immediately completed a 10-yard pass to Connor Miller.
Two plays later O'Horo connected with Cam Kreps on a 10-yard touchdown pass as the Spartans extended their lead over the East Golden Bears to 21 points.
O'Horo rested his leg the remainder of the game, but by then the damage had been done. Boardman cruised to a 26-6 win in the season opener Friday at Spartan Stadium.
"I just took it on my own and went back in," O'Horo said. "Then they took me out. We were in the red zone."
O'Horo was sharp from the start as the Spartans, who return 14 starters from last season's 6-5 team, look to make another playoff run. He completed 16-of-21 passes for 213 yards, two touchdowns and one interception. O'Horo opened the scoring on a 1-yard run in the first period.
"It was definitely a nice game," O'Horo said. "We were a little sloppy. We weren't finishing drives at first. It was a good first game. They played tough. We're a resilient team."
The Golden Bears played well against the run, limiting the Spartans to 60 yards on the ground. East, however, had a few breakdowns in pass coverage that proved costly.
"You can always take some good stuff out of a loss and some bad stuff out of a win," Golden Bears coach Brian Marrow said. "I was pleased with how hard our kids played.
"We made mental mistakes from myself all the way down. It's stuff I feel we can fix."
East received a bad break on the first possession of the game when running back Gei'Vonni Washington suffered a minor ankle injury when tackled on a 39-yard run. Washington continued to play, but he wasn't 100 percent healthy.
"When we have bad breaks and mental breakdowns, we're still good enough to win," Marrow said. "I just have to make sure I do a better job of getting our guys going."
O'Horo's scoring run finished off a 10-play, 77-yard drive that featured a 48-yard pass from O'Horo to Alex Huzicka. Tommy Fryda kicked the extra point.
The Spartans took a 14-0 lead into halftime when O'Horo threw a 16-yard touchdown pass to Huzicka just 11 seconds before the end of the second quarter.
O'Horo went down with the injury on the third play of the third quarter. Wrentie Martin replaced O'Horo for the remainder of the possession, and Martin re-entered after O'Horo's second touchdown pass.
"He [O'Horo] missed two days this week," Spartans coach Joe Ignazio said. "We didn't want any dehydration stuff. I felt comfortable with Wrentie Martin. He did a good job of handling the offense when Michael was out."
Boardman's Brandon Zagotti recovered a fumble by Golden Bears quarterback Zane Cylar at East's 17 to set up Kreps' touchdown catch. Fryda's kick extended the lead to 21-0.
East running back Blaine Spires was tackled in the end zone for a safety early in the fourth quarter to give Boardman a 23-0 lead. Fryda made it 26-0 with a 33-yard field goal.
The Golden Bears avoided a shutout when Cylar hooked up with Darius Humbert on an 18-yard scoring pass with 2:07 to play.
"It was good to get the first one under our belt," Ignazio said. "East is a way better team than we played last year. They have speed our kids don't often see. I thought we did a good job of adjusting to their talent and played great defense."
More like this from vindy.com