Students build and program robots at camp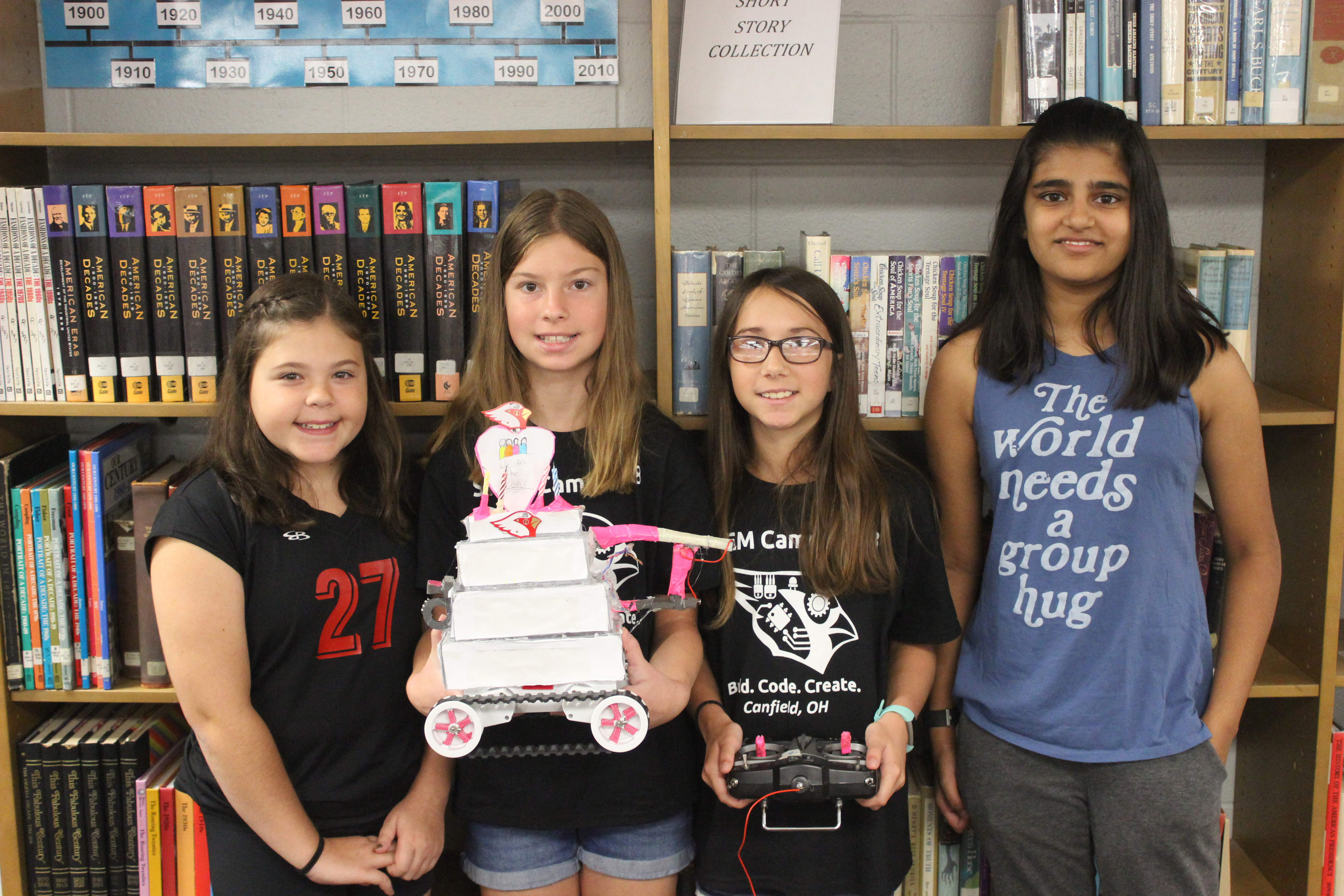 ---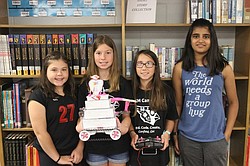 Photo
Neighbors | Abby Slanker.Team People, including, from left, seventh-grader Ava Arundel, sixth-grader Jenna Wilkeson, sixth-grader Lauren Smallwood and seventh-grader Simran Joshi, built a cakebot at the fifth annual Robotics Camp at Canfield High School on Aug. 10.

Photo
Neighbors | Abby Slanker.First year Robotics Camp attendees, from left, sixth-grader Cameron Bourque, sixth-grader Jack Graham and seventh-grader Braden Royea built their own robots and tested them on the track during the fifth annual Robotics Camp at Canfield High School on Aug. 10.
By ABBY SLANKER
The fifth annual Robotics Camp for fifth- through eighth-graders took place at Canfield High School Aug. 6-10, with approximately 40 first-year, second-year and third-year students attending.
The camp was taught primarily by Canfield High School teachers, alumni, YSU students and community volunteers, including Dave Wilkeson, CHS CAD and engineering graphics teacher and robotics team coach Don Crum, Steve Bennett and YSU physics professor Dr. Mike Crescimanno. Several eighth-grade students served as junior counselors for the week.
Throughout the week, the first-year campers were taught how to use hand tools and computer programs and code to build and program their own robot. The campers, consisting of mostly fifth- and sixth-grade students, built their robots from a kit, including soldering wires and adding LED lights, while applying the concepts they learned. The students were able to keep their robots at the end of the camp.
"It is very interesting to watch the first-year students. Some might like all of it, and some might just like the coding and electronics. You can see which direction they are going," Wilkeson said.
The second-year campers used what they had learned last year and built remote control robots and solved several problems on their own with the robots.
Wilkeson said the purpose of the camp is to get the students interested in robotics at a young age.
"The purpose of this camp is to expose the younger students in grades five through eight to robotics and STEM. The eighth-grade students also have an opportunity to learn leadership skills as they help the first-year students build their robots," Wilkeson said.
Wilkeson said the camp would not be possible without the volunteers and mentors who donate their time and efforts.
"The volunteers and mentors are an integral part of this camp. We are actually looking for more counselors and volunteers from the community who would be interested in helping with the camp next year. If you have an aptitude for STEM and robotics and would be interested in helping our students, you can email me at dave@wilkeson.net. We would appreciate any and all help," Wilkeson said.
Each student received a camp T-shirt and enjoyed a pizza party to end the week.
More like this from vindy.com