Program taps into student leadership skills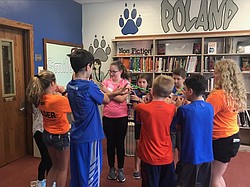 Photo
Neighbors | Submitted.New this year at Poland Middle School is the WEB program. Pictured are some of the sixth-grade students going through an orientation activity with WEB mentors on Aug. 14.
Some eighth-grade students at Poland Middle School are the first to lead a new program this school year.
It's called WEB, Where Everybody Belongs. WEB is a leadership and mentoring program. Thirty-four eighth-grade students will serve as mentors to every sixth-grade student at Poland Middle School.
On Aug. 14, WEB leaders helped lead a four hour orientation for more than 130 sixth-grade students. Two mentors were paired together with a group of 10 sixth-grade students. WEB leaders connected with sixth-graders through a variety of structured activities designed to enhance relationships, and create structures that support a successful transition for sixth graders as they enter middle school. WEB mentors will build on the relationships with sixth-graders throughout the year, focusing on social, emotional and academic follow ups.
Every WEB mentor went through an application process in the spring of 2018, and was selected by a committee to be a mentor. Every WEB mentor also went through twelve hours of training with the WEB coordinators, which included school counselors and teachers, who also went through intensive WEB training themselves.
"I would like to be the person that people come to," said Alyssa Glaros, WEB mentor. "I think I can give a lot of advice and I have good common sense, and I feel I could help them a lot."
"It not only mentors the incoming sixth-graders, but it provides leadership opportunities for our eighth-graders, so they can share their gifts with others and carry these experiences with them as they continue on to high school," said David Purins, Principal at Poland Middle School.
More like this from vindy.com