Residents offer ideas for Youngstown amphitheater, riverfront park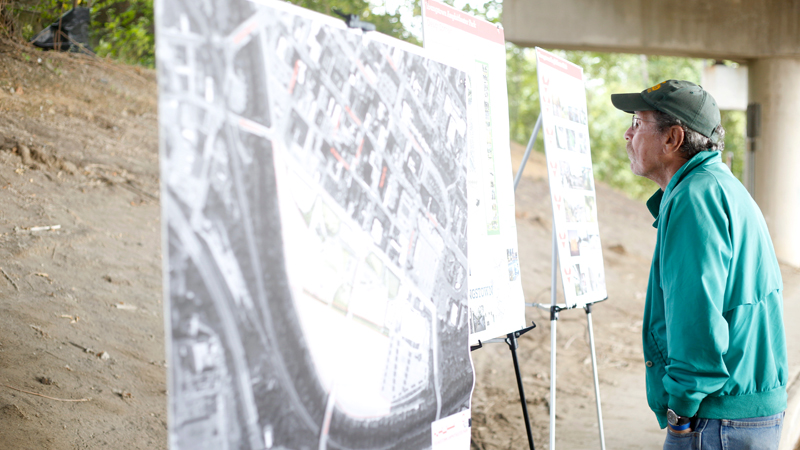 ---
By WILLIAM K. ALCORN
alcorn@vindy.com
YOUNGSTOWN
A skateboard park was one of many suggestions put forward for inclusion in the downtown amphitheater and riverfront park during a community survey Wednesday that was billed "Amphitheater Park Community Workshop & Walkabout."
The event, conducted by the Economic Action Group and Kent State University's Cleveland Urban Design Collaborative at the site of the future amphitheater and riverfront park, was attended by an estimated 75 area residents.
"It's my dream," said Michael Manning of Lowellville of a dedicated skateboard area in the park, who attended the event with friends, Matthew Kotch of Lowellville and Dakota Jackson of Youngstown, who also are hopeful that a skateboard park will be included.
Some said they want more green space and more trails and pathways and shade and open area and others, sculpture.
"We live in Ohio where there are four seasons," one of the leaders of the survey said, leading to one of the attendees to suggest that the skateboard area could be converted to an ice rink in the winter.
Keland Logan of Youngstown said he would like to see significant space dedicated to fishing, a dock and boat launch along the Mahoning River.
The river serves as the southern border of the 12-acre park stretching from the South Avenue Bridge to just west of Hazel Street at the former Wean United site.
Construction of the amphitheater, named the Youngstown Foundation Amphitheater, being erected on property that includes the former Wean site from South Phelps Street to Hazel Street is expected to be complete by next summer. The Youngstown Foundation paid $3 million to the city for naming rights to the amphitheater, which will hold up to 4,500 people.
The main reason Lou and Angela Joseph of Youngstown came to Wednesday's event was "to see it first-hand. It's promising," Angela said.
"I see the progress. I'm an advocate for the city. This project brings it more legitimacy," said Lou.
Erica Avery of Youngstown said she likes the idea of giving people an opportunity to voice what they'd like to see in the park.
"I'd like to see events at the amphitheater that cater to all ethnic groups and reflect all the people that live in the city," she said. Avery also lobbied for ample facilities for events such as class and family reunions and graduations.
Several members of council attended the community workshop and walk-about.
"It was a great event that definitely gave people a chance to give their ideas," said Councilman Julius Oliver, D-1st.
"It's great a lot of residents came to give their input," said Councilwoman Basia Adamczak, D-7th.
This spring, the city's board of control signed an $8 million contract to Brock & Associates Builders Inc. of North Lima to construct the amphitheater and park.
In addition to the naming rights, the city is borrowing $4 million from its federal Community Development Block Grant funds for the project to be paid back over 20 years with an interest rate of 2.59 percent.
More like this from vindy.com