Men welcome students to school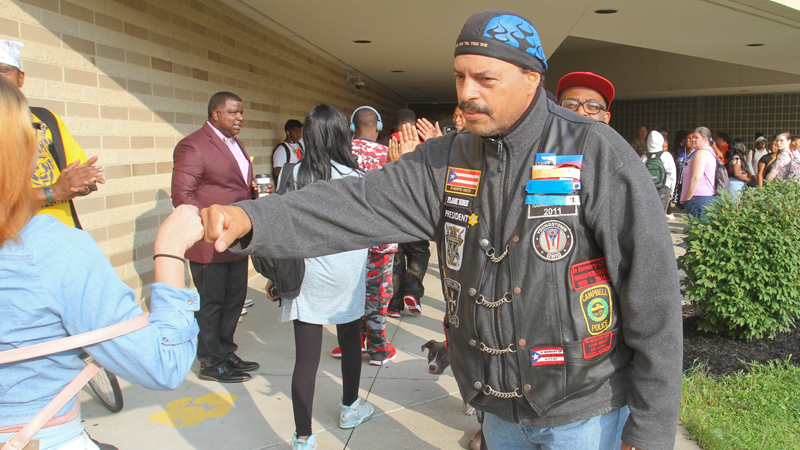 ---
YOUNGSTOWN
First Day Of School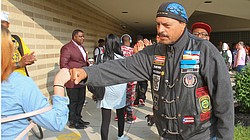 Video
Students at East HS got a special welcome back on the first day of classes.
For the second year, community male mentors welcomed students back to East and Chaney high schools on Wednesday morning.
City Kids Care started this effort at the beginning of the last school year in cooperation with the city schools, drawing participation from dozens in the community.
City Kids Care is a nonprofit organization that organizes fundraisers, community-building events and in-depth training sessions for volunteers, according to its website.
Several men clapped, cheered, shook hands, patted backs and more, creating a tunnel of positivity as students walked up the sidewalk and into the building.
"We love our city, and we love our kids," said Thomas Swanson. "They need this positive reinforcement, and it really goes a long way."
Joe Reyes echoed Swanson's sentiment.
"It's nice doing something for the community because these young women and men are the futures of this country," he said. "They're the future families, businessmen and women and politicians."
Mayor Jamael Tito Brown was among the men welcoming students into East.
"We just want to make sure they start the year off right," he said. "We are providing encouragement and letting them know we support them"
Part of that support came in the form of "welcome back champ" chants and "make it a great year" encouragements from Keland Logan, co-owner of The Red Zone youth and adult behavioral health agency.
Junior student Janiya Merriwether said she appreciates the gesture.
"It's nice they're waking up early to come and greet us and taking the time out of their day," she said.
But it's more than just people taking time out of their day to welcome students, it's about strong role models for children, said City Kids Care founder Brandon Perry.
Strong role models help children realize the importance of school.
"Education is key," Brown said.
In addition, Perry said it's about men doing more for the community.
"In the inner city, people say that men are not doing enough, so we wanted to change that," Perry said. "It started with us coming together under the umbrella of the children, but it's my intent to bring power back to a powerless neighborhood through these men."
More like this from vindy.com