Loaded quarterback class started young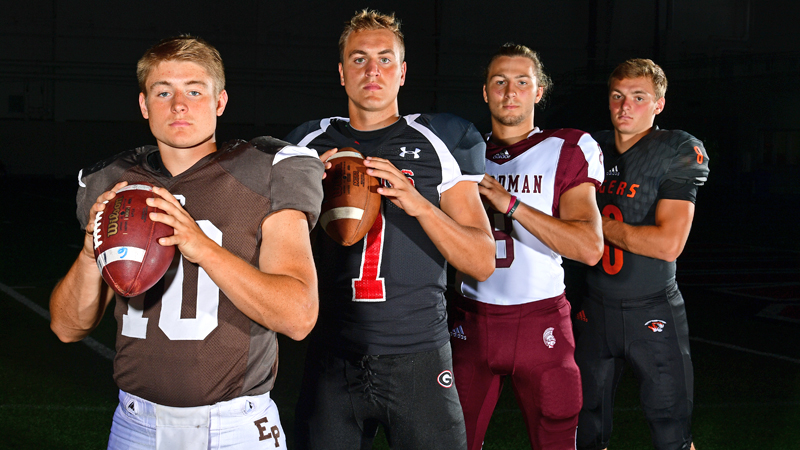 ---
By Steve Ruman
He was just eight- years-old, but Parker Sherry already felt he was ready to take the reins of the East Palestine High offense.
"All the way back to third grade, I would go to the high school games and my dad would make sure that I was dressed warm in a sweatshirt and jeans," Sherry recalled. "But underneath, I would always wear shorts and a t-shirt because I believed they might need to put me out on the field at some point."
"Even at that age, I had that type of mentality. I wanted to be on the field."
Sherry didn't quite get the call in 2009, but he did start all 11 games as a freshman for East Palestine in 2015. He accounted for 2,210 yards and 26 touchdowns while leading the Bulldogs to their first playoff appearance in six years. By the time Sherry was 15-years-old, he was rewriting the school record books.
Today, Sherry is part of a class of Mahoning Valley senior quarterbacks which is arguably as talented, and without question as experienced as any quarterback group in area history.
Sherry has already started 32 games under center at the varsity level. Through three seasons, he has thrown for 5,455 yards and 56 touchdowns. He has rushed for 3,320 yards and 43 TDs.
"It's pretty neat to be part of this group, there are some really talented quarterbacks that I've been following throughout high school," Sherry said. "Honestly, I think having them around has helped my progress, even if I don't play against them. Mark Waid (Girard) for example, he pushes me without him even knowing it. I see what he does, and he provides a lot of motivation."
Like Sherry, Waid has 32 varsity starts under his belt. His career numbers (7,282 passing yards, 69 TD, 2,248 rushing yards, 39 TDs) are video game-like.
THE FIRST START
Waid's first start as a freshman was against backyard rival Niles. Because the game was played on a Thursday to open the season, it attracted fans from throughout the Valley. It was also aired on local television.
"The buildup for that game was pretty intense," Waid said. "The first play of my high school career was a quarterback draw. I just remember getting hit pretty good, and the defenders were kind of like, 'Welcome to varsity football.'"
"Back then, I really relied on my teammates and coaches to get me through. It would have been impossible to get through that season without their support and guidance. It was a huge learning experience, especially in terms of learning all of the ins and outs of the position."
Michael O'Horo guided the Cuyahoga Valley Christian Academy offense as a freshman before transferring to Boardman prior to his sophomore year. He has been a mainstay with the Spartans ever since. O'Horo says his first-ever start was "like being thrown into a fire, with bullets flying everywhere." He relied on athleticism alone to get through the night.
"Making that leap from junior high to varsity in one year, it's like boys against men," O'Horo said. "Right away, you notice the size difference and the unbelievable difference in the speed of the game."
"Those first few games, I was relying on physical ability. You then realize that becoming a true student of the game, watching film, learning the playbook, studying the opponent — all of those aspects of the game is what makes the difference."
Springfield senior Brannon Brungard has memories similar to Sherry's when it comes to his earliest days of football. Brungard roamed the Poland sidelines when his father Mark Brungard (now a Springfield assistant) was the Bulldogs' head coach. Brannon said he would wear a Poland jersey, "And I was about ten-years-old, but I would think to myself, 'if this player gets hurt and that player gets hurt, I'm ready to go and they'll have to put me in.'"
As it turned out, Brannon earned his first varsity start at the beginning of his sophomore season and promptly helped lead Springfield to a 9-3 finish, including its first playoff win in 16 years. That year he threw for 1,158 yards and 15 touchdowns. He posted very similar numbers last season.
MASTERING THE GAME
Mark Brungard is the only Youngstown State University quarterback to lead the Penguins to back-to-back national championships.
"Being around my dad, (Springfield) Coach (Sean) Guerriero and all of those other coaches while growing up was the best thing that could have happened to me," Brannon said. "I learned early on that football is a mental game as much as it is a physical game. There is so much to learn if you want to be a successful player. It goes way beyond physical skills."
"I love studying the game. I love watching film, reading defenses, just watching football at any level and picking up some ideas. It's all part of the process."
In fact, today more than ever high school quarterbacks must possess a strong mental toughness and a high football IQ, according Joe Ignazio. The veteran Boardman coach noted that because of today's wide-open and complex offenses, quarterbacks of this era are asked to do more — both from a physical and mental aspect — than their predecessors.
"You look at the three and four-year starters we have in this area, and to a man I can tell you they aren't just good athletes, but they are all highly intelligent young men. All great students," Ignazio said. "In this day and age, you can't get by on physical skills alone. You truly have to be a student of the game, and a leader."
Ignazio said that today's quarterbacks also benefit from advanced, year-round training.
"I see first-hand how much time (O'Horo) puts in during the off-season. Mentally, he's as tough as any kid I have ever coached." Ignazio said. "(Brungard) obviously benefits from having Mark for a dad. I know that (Waid) works with a quarterback guru. These guys put in the time, they are eager to learn and make themselves better."
Girard coach Pat Pearson said that because of the demands placed on today's quarterbacks, it is vital for programs to be on the same page from the junior high level on up. He noted that the Girard junior high teams will mimic the offensive style of the varsity Indians, allowing for some freshmen to make a seamless transition.
"Of course, you still have to possess all the right tools, and you have to be mentally able to make that leap," Pearson said. "We never hesitated with (Waid). We saw from the very first day of camp when he was a freshman that he had the toughness, the leadership skills and the smarts to go along with his physical talent."
"Some of these quarterbacks who have been around for awhile might make it look easy, but that's only because of all of the time and hard work they put into it from a very young age."
COMPLETE ATHLETES
Guerriero noted that the current crop of high school quarterbacks are, by design, often much more athletic than their earlier counterparts. In fact, many of today's quarterbacks would likely have been tabbed as running backs in an earlier era. However, the spread offenses run by so many programs require a multi-skilled athlete to run the show.
"Today, it's very often the most athletic player on the team who is behind center," Guerriero said. "A quarterback has to possess all of the physical skills, he's gotta be able to make things happen with his arm and his legs. And, he has to be extremely intelligent. We're asking these young men to read defenses and make super quick decisions."
"We're seeing these kids mature both physically and mentally at an earlier age."
While the demands on today's quarterbacks might be high, so too are the opportunities to hone the craft, according to Sherry.
"The resources out there today are never-ending," Sherry says. "So much information online, so many instructional videos, so much about improving your game, improving yourself physically. And our coaches and trainers are so knowledgeable."
"I think our generation of players really have an edge because of all of the advancements."
And, the current class of Mahoning Valley quarterbacks also might have an edge because of each other, according to Waid. While competition on the field may be fierce, Waid said there is "great respect and admiration" among the current group of veteran players.
Earlier this summer, Waid and his Girard teammates competed in a four-team scrimmage which included Brannon Brungard, O'Horo and Poland three-year starter Cole Kosco.
"Just to be around those quarterbacks who have all excelled, it was a great learning experience," Waid said. "Yeah, we all want to outdo each other but at the same time I'm a big fan and I love watching what they do. We've all gone through pretty much the same experiences so it's easy to get along."
Brannon Brungard echoed Waid's comments.
"I'm pretty close with Parker [Sherry] and Cole [Kosco]," Brungard said. "I don't know the others as well, but I pay attention to what they do. If we're not on the same field competing against each other, I'm a fan."
Waid and his Girard teammates will help usher in the 2018 season today when the Indians travel to Niles.
More like this from vindy.com