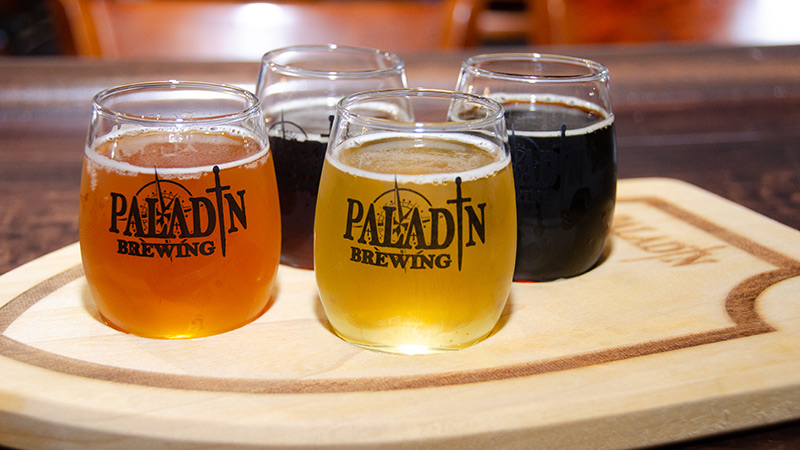 ---
If You Go
Location: Paladin Brewing
Address: 6500 Mahoning Ave. #300, Youngstown
Website: paladinbrewing.com
Hours: Weds. – Fri.: 4 to 10 p.m.; Sat.: 2 to 10 p.m.
Available for Purchase: Flights, pints, growlers, and merchandise.
By Jim Cyphert
Mahoning Valley Flight Crew
Paladin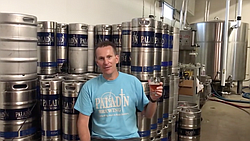 Video Set
A lot has changed since John and Abby Chandler opened Paladin Brewing in Austintown in August 2015.
Three years ago, Paladin opened with four beers on tap. Now, 16 are regularly available.
Back then, Paladin's beer was available only in its tasting room at 6500 Mahoning Ave. #300. Now, the brand has expanded into locations throughout Columbiana, Mahoning and Trumbull counties, and in Columbus and Western Pennsylvania.
In 2015, the Mahoning Valley Flight Crew had no other craft-brewery options in the tri-county area. Now, there are more than a half dozen nestled in Columbiana, Mahoning and Trumbull counties.
When Paladin opened, John Chandler was recuperating from intensive cancer treatments that resulted in the loss of an eye and bone in his eye socket and nose. Today, he's strong and leading the charge in a quest to brew beer that's "crafted for heroic beer drinkers."
As it celebrates yet another anniversary, Paladin also is now doing business as Youngstown Brewing and is brewing beer for Penguin City Beer Co.
Penguin City Beer will be launched officially at Paladin's third anniversary celebration Saturday. The beer will be available for purchase, and Penguin City representatives will be on hand giving away merchandise beginning at 2 p.m.
Chandler said Penguin City's slogan is, "Solid Beer for Solid People." The brand will be widely distributed throughout the Mahoning Valley.
"At our anniversary celebration, we'll also be serving all of Paladin's beers, including two beers from our Taste of Summer infusion series," Chandler said. "That includes Dreamsicle — our Ash Kickin' Ale infused with vanilla and Granny's Sweet Tea — our Cancer Sucks infused with peach.
"Desire — our Mosaic Tribute infused with grapefruit and passion fruit will be available if either Dreamsicle or Granny's Sweet Tea kicks," Chandler added. "And, we'll have three new Taste of Summer beers featuring blood orange infusions available as backup."
Kelli's Cooking — Paladin's regular food vendor on Fridays and Saturdays — will be selling food. Plus, there will be live music and entertainment.
Paladin merchandise giveaways will occur every hour. Six packs of cans of Paladin beers also will be available during the party, with mix and match cases selling for $20.
"We thank everyone for their support over the past three years," Chandler said. "It's been an awesome ride so far. We look forward to seeing what the future holds."
Members of the Flight Crew feel like regulars when we walk into Paladin. For this review, we spent a hot summer afternoon sampling the brewery's offering — from a cream ale to an extra-special bitter and from a Scottish ale to a double IPA.
Here are the beers we liked best that day:
Dark Amber (10.9 percent ABV, 30 IBU)
Jason Jugenheimer : "Mount your steed and join the quest in search of a truly drinkable Barley Wine ... wait, I just found it. Paladin's Dark Amber is a barley wine more in-line with the traditional style. It's jammed with malts, giving it a sweet malt flavor instead of the boozy mouthful you get with some barley wines. It's a dark amber color that has bread-like notes and leaves a sweet finish on the palate. So feel free to bend the knee and raise the banners to enjoy this high-quality barley wine."
Dark Knight IPA (6.8 percent ABV, 60 IBU)
Roger Gillespie: "You'd be hard pressed to categorize this beer as a standard IPA. Don't get me wrong, there is plenty of hop character here. But, with the addition of midnight wheat, we have a very rich, very dark, very smooth and very enjoyable brew. It boasts a 6.8 percent ABV and 60 IBUs. Don't be afraid of the dark side with this one."
Ash Kickin' Ale (4.7% ABV, 23 IBU)
Dave Shively: "Feel like kickin' some ash? Then, head over to Paladin and take home a crowler of the Ash Kickin' Ale. This thirst-quenching blonde ale was brewed this spring in collaboration with the Austintown Local Fire Fighters Union #3356, with a portion of the proceeds of each beer sold going to the fire fighters' causes. This is a perfect summertime beer, as it packs a hint of orange zest to complement its clean, crisp and malty taste. Cheers to Cameron Long, son of Flight Crew member, Brian, who proudly serves our community as an Austintown Fireman."
Double-Edge Sword (9.7 percent ABV, 100 IBU)
Jim Cyphert: "When John said this beer had an IBU of 100, I treated him like E.F. Hutton … when he talked, I listened. He said, 'Don't fear the sword.' So, I didn't. With my penchant for the wonderful aroma and flavor of everything hops, this beer was perfect for me. Even those who aren't IPA lovers might find this beer to hit the spot. It's a terrific double IPA that's extremely smooth and balanced. The high alcohol content provides a warming sensation. But the malt balances out the hops, creating an extremely easy-drinking double IPA experience."
CraveMore Scottish Ale (8.0 percent ABV, 28 IBU)
Joe Sanfilippo: "The name says it all. Once you try this Scottish ale, you'll find yourself craving more. Poured into a snifter, Paladin's CraveMore has a nice malty flavor from caramel and roasted malts. John suggests it be paired with smoked meats, which is absolutely perfect for cookouts this fall."
Red Dragon (7.1 percent ABV, 13 IBU)
Brian Long: "Not to fear this 'Imperial' American brown ale, my friends. It's not as ferocious as the creature itself. Rather, it's a very well-balanced beer, with a deep-mahogany color and great raspberry notes. This could be a gateway beer to a newbie, or a great dessert beer to finish the evening for any craft beer enthusiast. With an IBU of 13 and a solid ABV of 7.1 percent, this sweet treat could creep on you. Cheers!"
Recommended Flight Pattern: Be a hero. Head to Paladin on Saturday — or anytime — to get a taste of beers crafted for heroic beer drinkers.
More like this from vindy.com