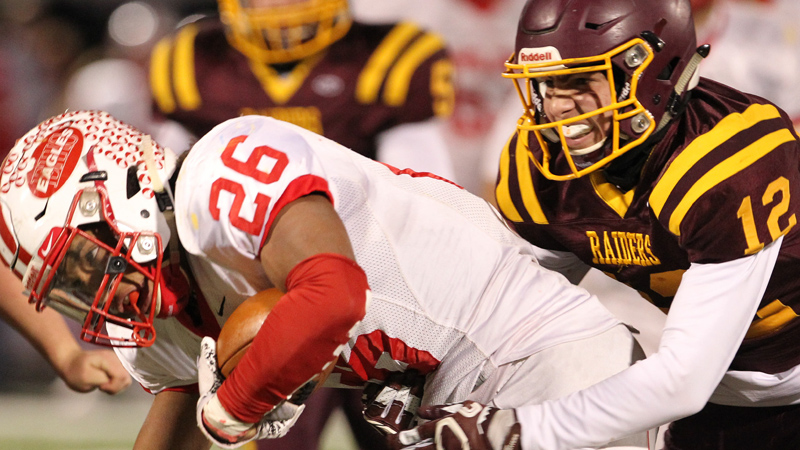 ---
Valley players primed to chase football dreams
By Steve Ruman
The months of weightlifting and offseason conditioning are behind them.
The weeks of two-a-days are in the books.
Now, it's time for roughly 2,000 Mahoning Valley high school football players to lace up the cleats, tighten the chin straps and play some football.
The 2018 high school football season kicks off Thursday night with seven area teams in action. Friday includes a full slate of games.
"High school football is the most Americanism act left in our culture," Western Reserve coach Andy Hake said. "They're not playing high school football in Syria, they're not playing it in North Korea. They're playing high school football in little towns in North America where the townspeople come out to support an activity that teaches young boys to become men."
Western Reserve is one of a record 18 area schools which made the playoffs a year ago. With eight starters returning on defense and a roster of 60 players, expectations are once again high in Berlin Center.
"We always set the bar very high, we always aim to play beyond Week 10," Hake said. "This year is no different. We have some holes to fill, especially on offense, but we have players who can get the job done."
South Range set the bar very high for itself a year ago when it went 13-1 and advanced to the Division V state semifinals. The Raiders, along with Canfield, were the two Mahoning Valley schools to post perfect 10-0 regular season records in 2017. The Raiders own an area-best 14-game regular-season winning streak.
South Range coach Dan Yeagley points out that his offense lost 5,000 yards to graduation, but he is also quick to note that the cupboard is not bare for the Raiders. The 62-man roster includes 30 upperclassmen — 11 seniors and 19 juniors.
"We lost a pretty special group of seniors who will be hard to replace," Yeagley said. "But we'll still be pretty solid. We had to move some players around, switch some positions but we're pretty happy with what we have."
While South Range will look to extend its winning streak, Leetonia hopes to snap the area's longest active losing streak of 14 games. The Bears are guided by Paul Hulea, who took over the program last December. Hulea has a career head coaching record of 115-46, including a 15-0 state championship season at Poland in 1999.
"We've got a long way to go," Hulea said. "Leetonia football has been struggling for a while but the good thing is we've got a strong nucleus of kids, they're working hard and they are starting to have belief."
Perhaps no area team has been more anxious for the season to start than the McDonald Blue Devils. A year ago, the Devils went 8-2 and missed out on the playoffs. McDonald lost to Columbiana by a point in overtime on a failed two-point conversion. It lost to Western Reserve by five points thanks to an 87-yard kickoff return with 10 seconds remaining in the contest.
With 16 lettermen, 12 seniors and nine starters returning on both offense and defense, the Blue Devils are in prime position to make a run at their first playoff appearance since 2014.
"Our kids are hungry, they have been hungry the entire offseason," McDonald coach Dan Williams said. "They definitely have a chip on their shoulders. They feel like there is some unfinished business to take care of."
Niles is one of eight area schools which made coaching changes during the offseason. The Red Dragons are now guided by Jim Parry, who last served as a head coach in 2008 at Mathews.
Parry said the move back into the head coaching ranks has been, for the most part, a smooth transition.
"Some of the little things like getting rosters out to the media, checking the headsets, a lot of the behind-the-scenes stuff, that sneaks up on you," Parry said. "You kind of forget how much time is involved in being a head coach away from the games and practices. But it's exciting. This is what we sign up for."
Parry is not only returning to coaching at a tradition-rich school, but at his alma mater.
"People keep asking if I feel added pressure because of the situation, but honestly, the biggest pressure I feel is self-inflicted," Parry said. "Maybe one day I'll look back and see things differently, but right now I am my biggest critic, I place more expectations on myself than anyone else."
Columbiana coach Bob Spaite has his coaching routine down pat. Entering his 25th season with the Clippers, Spaite is the longest tenured coach in the Mahoning Valley.
"I don't know what that means other than I'm old," Spaite said with a laugh. "Seriously though, I've been very blessed with a good thing. I'm in a situation where the administration, the BOE, the parents and the players all do their part to make it a good fit. They have all been wonderful, and they've allowed this to happen."
Spaite has seen many changes during his quarter-century of coaching.
"When I started, if our defense would have lined up against three receivers, one back, a quarterback in the shotgun, we would have been in shock," he said. "Is the game better today? I think the argument can be made both ways. I worry that the game has lost some of its toughness.
"At the same time, I think overall we're a lot smarter in how we do things. Sometimes I look back now and I think to myself, 'man that was stupid and unnecessary, why did we do that.'"
Meanwhile, Howland coach Steve Boyle will be making his head coaching debut. He is the lone rookie head coach among the 44 coaches in the Mahoning Valley.
"It's been awesome so far, it feels great to give back to this community for everything that's been given to me," said Boyle, a Howland alum. "Everything has gone well to this point, it's great to see some familiar faces that I had when I was a student and a player here. It's nice to get the support from the community."
"My goal is always to see these guys five years after high school. That's my mile marker, to see if these kids are successful in that part of their life."
The regular season runs through Oct. 27. One week later, 224 teams statewide will qualify for the playoffs.
More like this from vindy.com