Poland moves on after late collapse offset a 7-0 start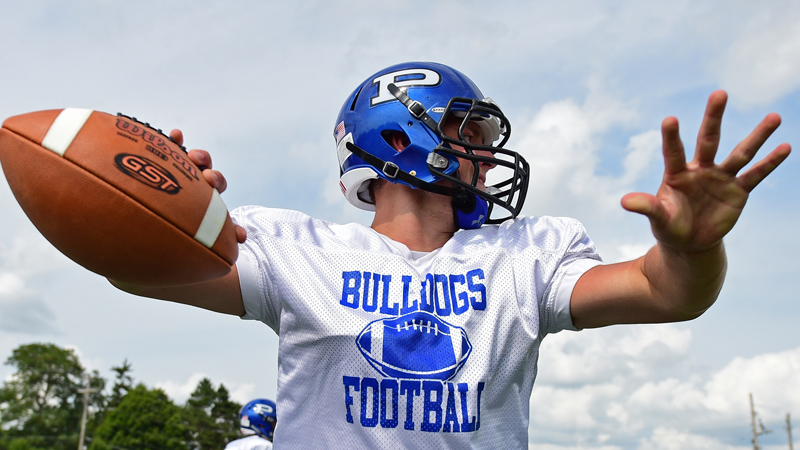 ---
By DAN HINER
dhiner@vindy.com
POLAND
For Poland football coach Ryan Williams, 2018 will be business as usual.
He and the Bulldogs already forget the 2017 season, a season which saw Poland go 8-3 after a 7-0 start.
Despite starting well, Poland lost three of its last four, including a 13-7 loss to Cardinal Mooney in the first round of the playoffs.
"Its a completely different team," Williams said. "A completely different set of problems will arise with this year's team."
Poland opens at Marlington and travels to Niles for Week 2 before a five-game home stretch. Williams isn't concerned with the schedule or anything other than fielding a competitive team.
"We're trying to be the best football team we can," Williams said. "We don't have any control over the playoffs. I don't know who else makes it.
"We're just trying to find the best 11 and put them on the field."
OFFENSE
Cole Kosco is returning for his fourth season at quarterback. As a junior, Kosco threw for 895 yards and 10 touchdowns last season.
"He's a four-year starter, that's not something you have all the time," Williams said. "We obviously have to count on his experience and draw upon his leadership to start this season."
The responsibilities won't increase for Kosco. Williams said the team will still focus on "getting on a schedule" by running the football and use the passing game when needed.
But the Bulldogs need to replace the weapons around him. Poland needs to develop new running backs and receivers.
Junior Jake Rutana will carry the load for the Bulldogs in the running game. Josh Alessi and Nico Lattanzio also will contribute at running back.
Several players are getting time at receiver. Junior Steve Bannon and senior Collin Todd are expected to lead the new receiving corps.
The Bulldogs' offensive line has a couple holes to fill. Nick Sabrin and Drew Davies graduated, but Tyler Eichert is returning at offensive tackle to lead the position group.
"We've got a couple 300-pounders back. We're happy with the way we're working up front," Williams said.
DEFENSE
Poland will have some work to do on defense. The Bulldogs need to replace several key contributors such as linebacker Nick Miller, defensive back Mike Diaz and defensive lineman Alec Catsoules.
The Bulldogs only have a few returning starters on defense.
The defensive end Scott Campbell was a second team All-American Conference Red Tier honoree last season, but he is the only returning starter on the line.
"The defensive line has been pretty heavily contested," Williams said. "We got probably six or seven guys who are all battling for three spots there."
Seniors Mitchell Fredrick and Owen Hernon are returning to provide some leadership. Fredrick will stay at defensive back and Hernon will help stabilize the linebackers.
SPECIAL TEAMS
The kicking and punting responsibilities won't keep Williams up at night.
Junior Mike Kushner is returning at place kicker and will kickoff. Senior Mitchell Fredrick is also returning at punter.
The only positions the Bulldogs need to fill on special teams will be at the kickoff and punt returners.
"[We have] a lot of consistency back there in the special teams to start the season," Williams said.
More like this from vindy.com