Motion to dismiss class-action suit against Girard on speed cameras is pending in court
Speed camera lawsuit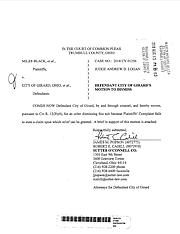 Document
A motion was filed to dismiss a lawsuit about speed cameras in Girard.
By SAMANTHA PHILLIPS
sphillips@vindy.com
GIRARD
A motion by the city to dismiss a class-action lawsuit against Girard, regarding what an attorney claims are erroneously issued speed camera tickets, is pending in Trumbull County Common Pleas Court.
The litigation revolves around the contested speed limit on a portion of Interstate 80 between Dec. 7, 2017, and Jan. 7, 2018, after construction was complete. The typical speed limit is 65 miles per hour, but during construction it was reduced to 55 mph.
Erica Hawkins with the Ohio Department of Transportation said the journalized speed limit was raised back to 65 mph by the ODOT district director after Dec. 7, 2017, but the construction contractor left the reduced-speed-limit signs up.
Drivers who got cited for speed violations maintain they treated the interstate as being back at its regular speed despite the signs, because construction was over.
The motion, filed on the city's behalf by attorneys with the Cleveland-based firm Sutter O'Connell Co., argues the lawsuit, filed by Atty. Marc Dann and six class members, doesn't have a legal basis for why the citations were invalid or how the drivers are entitled to relief.
"We vigorously oppose the motion to dismiss the suit, and I'm optimistic that our theories will move the case forward," Dann said.
The city is firm that the limit was still reduced: "The posted speed is what the violations were issued on," said Girard Law Director Brian Kren.
The motion is at odds over several claims made in the lawsuit, including that the drivers' due process rights were violated.
The lawsuit alleged certain plaintiffs tried to contest their citations but were denied. But the motion states the plaintiffs didn't make the request within the required 30 days of getting the notice.
"I was hoping Girard would come to the table wanting to resolve this, but if they want to litigate, we are perfectly able to do that," Dann said.
More like this from vindy.com