Cilone, Notaro among 12 to claim Greatest title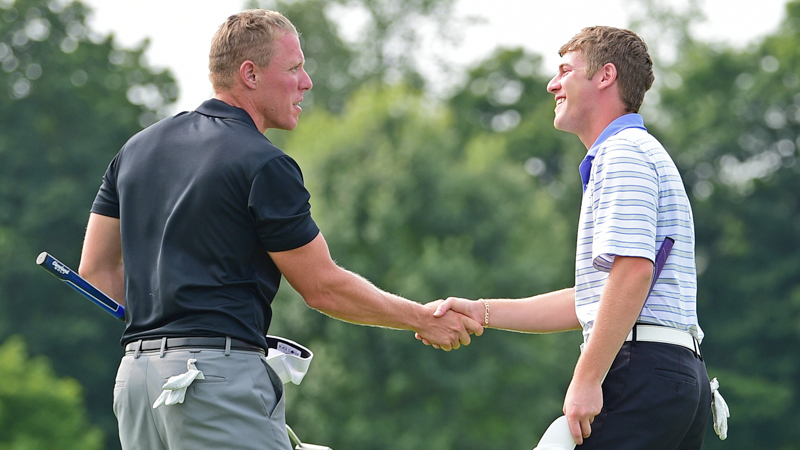 ---
By Greg Gulas
sports@vindy.com
POLAND
East Liverpool's Joey
Cilone remembers all too well the sting of losing the 2016 Farmers National Bank Greatest Golfer of the Valley Adult Tournament playoff, then failing to make the cut last year.
Leading since Friday's opening round, Cilone felt somewhat vindicated this year after capturing the Pete Mollica Men's Open Division Sunday at The Lake Cub.
Cilone's 209 (69-69-70) was five strokes better than Scotty Jones (72-71-71) and Scott Porter (69-72-73), who was tied with Cilone for the lead after Friday's opening round at Mill Creek.
"The greens here at The Lake Club are undulating," Cilone said. "I had a lot of long putts that were tough on the back nine but were a little easier. I just concentrated on hitting my shots closer to the pin, which gave me easier birdie opportunities."
In the women's division, Toni Notaro, who was playing in her seventh Greatest tournament, won for the third time and has played well overall since double elbow surgery sidelined her twice.
She was supposed to play Pinehurst this weekend and when that didn't materialize, she became a last-minute addition to this year's Greatest field.
Her 223 (74-76-73) gave her the ladies top gross title by 15 strokes over Angela Molaskey (75-80-83).
Abby Cook's 250 (80-84-86) earned top net honors.
"It was a beautiful day and the course was in absolutely great condition," Notaro said. "The greens were wicked today, but the thing of which I am most proud is the fact that on Saturday at Tippecanoe Country Club, and then today at The Lake Club, I only three-putted one time.
"I was fighting myself so my short game and putting really helped. I look forward to coming back and defending my title next year."
Kevin Tournoux's 225 (74-78-73) was tops in men's 3-6 play. Ron Hunter claimed runner-up laurels with a 231 (78-78-75) while Ryan Homer (81-75-77) finished third with 233 after a scorecard playoff.
"I had a rough start but cannot say enough about the course and how great it was overall," Tournoux said. "I putted off the green on No. 4, had a double bogey on No. 7 but after that hit some really good shots.
"The pins were placed in some challenging, yet fair, areas and I had a lot of fun the entire weekend."
In men's 7-10 action, Hubbard's Gary Goodrick started the day in fifth place but fashioned a 238 (78-83-77) to win. His score was a shot better than Frank Petrillo (78-77-84) and two shots better than George Rohan's 240 (79-85-76), who started the day 10 strokes off the pace.
"I felt that if I shot like I was capable of shooting, then I would be alright and remain in the hunt," Goodrich said. "There were a couple challenging holes, but the greens all held true for the most part."
In men's 11-13 play, Josh Randolph of Ellsworth took home first place with a 241 (78-81-82) while Joe Mosca was runner-up with a 248 (81-81-86) after a scorecard playoff with Philip Eubank (81-86-81).
"This is the first time that I have ever played in the Greatest and just happened to take my vacation this week so it all worked out for me," Randolph said. "I played with a good group all three days and made some new friends, so I will be back next year to defend this title."
Bradley Koch's 251 (84-78-89) was two strokes better than Joshua Marsh (87-75-91) and three shots ahead of Mike Missik (83-87-84) in men's 14-16 play.
In the men's 17-21 grouping, it was Jay Moore registering 252 (84-83-85) for an 11-stroke victory over Joe Fanto (83-88-92).
"I have played in this event all nine years and this is definitely the one where I had the most fun," Koch said. "I will sign up to play in this event until forever."
Moore finally broke through after finishing second the last three years.
"I cannot tell you how excited I am right now," Moore said. "I was under the weather when I got up this morning and wasn't sure that I would be alright to play but had a one-stroke lead on the back nine and finished really strong."
Dick Marlowe was able to hold onto his lead in the men's senior open division, carding 221 (75-71-75) for a one stroke win over childhood friend Glenn Milton (74-74-74). Rocco Gennaro's 225 (72-76-77) was three shots ahead of Donald Ferko, Jr. (73-76-79) and six strokes ahead of Campbell native Steve Sofocleous (77-75-79) in men's senior 7-11 action.
For Marlowe, his ninth time was the charm.
"The Lake Club puts on a tremendous day for all of us," Marlowe said. "It's a great venue with a great staff and that just makes it wonderful for everyone. The greens were wonderful, fairways great and I had a super time."
Gennaro also won Thursday's longest drive competition at Tippecanoe Country Club.
"It has been a very special, yet humbling week," Gennaro said. "I know this event takes a lot of work and want to thank Vindicator editor Todd Franko and Ted Suffolk, as well as the area golf courses that take part in such a fun week."
In men's senior 12+, Fred Fisher's 239 (83-76-80) was five strokes better than Bob Chenet (79-79-86) and 11 strokes ahead of Lenny Gessler (75-89-86).
In men's super senior play, Bob Leonard's 217 (71-70-76) was a solid 15 strokes in front of Skip Watt (70-82-80).
Fisher, who also won in 2016, calls The Lake Club his home course.
"Today, I hit the ball well and while you are always nervous your first time, there were less nerves today," Fisher said. "The fairways were soft and your ball didn't roll a lot, but the pins were in good spots and the greens absolutely great."
Leonard's lead was the largest heading to Sunday's final round while his victory was his fourth overall, also winning in 2010, 2013 and 2017.
"I just came out and wanted to play smart golf, hit the greens and putt well because these greens are fast," Leonard said. "I cannot say enough about this year's event so kudos to everyone who was involved in making this the wonderful event that it has become."
John Diana, The Lake Club PGA director of golf, has been involved with The Greatest since 2010.
"I helped [Franko] put the first one together and believe that it has surpassed our expectations," Diana said. "When we got the juniors involved and created divisions, it exploded.
"It allows amateur golfers to play like the pro and that has been a lot of fun to watch."
Franko has also enjoyed watching the event grow from its infancy.
"This nine years has been a fantastic collaboration of camaraderie and community that feels as fresh as day No. 1," Franko said.
More like this from vindy.com