New Boardman business rewinds to era of classic arcade gaming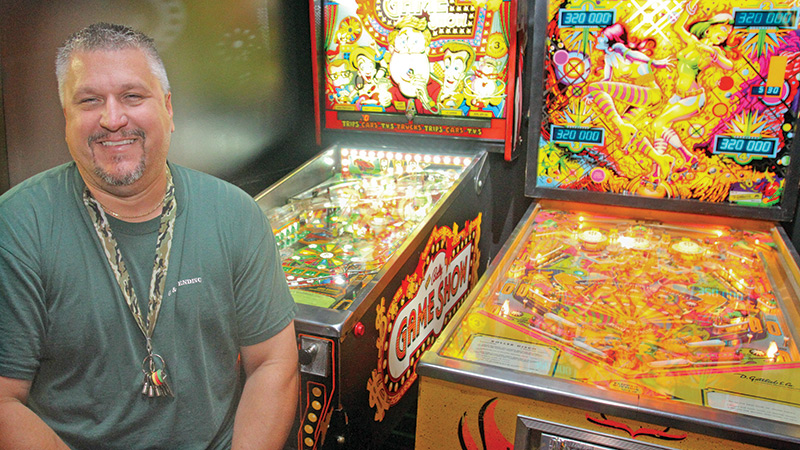 ---
BOARDMAN
Little by little, Steve Kurimski and Tony Yohn acquired games – a lot of games.
Partners in a vending and operating business, the pair would buy out other operators and purchase broken arcade games.
Over the years, they found themselves with enough games to fill warehouses.
"Over time and connections, we've collected quite a mass of games," Kurimski said. "If you were to count everything up, I'd say we probably have about 600 pieces."
So why not put them to use?
That's what Kurimski and Yohn are doing with Fun -N- Games Rewind, an arcade they recently opened at 6989 Market St. The business is located next to RT Tire Co., at the corner of Market and Woodview Avenue.
Kurimski and Yohn's ambitions for the arcade are modest. They hope the business will be self-sustaining. Maybe they'll make some money. But the point is to let others enjoy their collection.
The two have other full-time jobs and still operate games at businesses all over the region.
The business partners met when Kurimski, of Canfield, was working in home repairs and Yohn, of Columbiana, had games he needed fixed.
The two eventually started a vending business together, which is when the game collecting began. Many were broken, but Kurimski would fix them.
The games they came across reminded them of the games that were popular when they were growing up.
"It was mainly a memory thing. And it was the thrill of fixing the games and getting them working again," Kurimski said.
Fun -N- Games Rewind has the feel of a classic arcade, from the black carpet with neon patterns to the pinball machines to a special section devoted to classic games.
Tucked away near the back, the classics room is full of selections that are sure to delight arcade-game enthusiasts.
The collection's highlights include Pac-Man, Galaga, Donkey Kong and Frogger.
What gamers see now, however, will change. Kurimski and Yohn plan to swap out some of their games every month or so, allowing visitors to experience more of their extensive inventory.
The arcade has already drawn a crowd of regulars, Kurimski said, and he hopes they can build on that with activities such as a pinball league.
"It's just fun," Kurimski said. "It's fun to play the games, and it's fun to watch the kids play the games."
The arcade is open from 5 to 9 p.m. Tuesday through Friday and from 12 to 9 p.m. Saturday. For more information, visit the Fun -N- Games Rewind Facebook page.
More like this from vindy.com