Sen. Brown touts American-made bill, hears worker frustration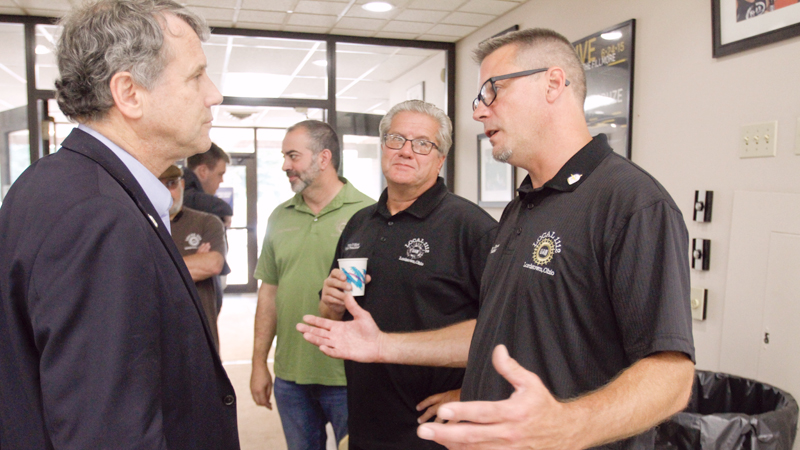 ---
By JORDYN GRZELEWSKI
jgrzelewski@vindy.com
WARREN
Mike Kudlovsky of Youngstown, a United Auto Workers Local 1112 member who has built vehicles at the General Motors Lordstown plant for more than 32 years, is frustrated.
Kudlovsky is frustrated by General Motors' promotion of the vehicles it builds overse was because he feels GM has not done the same for its American-made vehicles such as the Lordstown-built Chevrolet Cruze.
He was frustrated, too, by the automaker's assertion that it would use funds generated by sales of its Chinese-made Buick Envision to invest in U.S. manufacturing facilities, which GM stated in a July 30 request to the U.S. trade representative to exempt the Envision from a 25 percent U.S. tariff.
"This is the thanks we get from General Motors for being bailed out," Kudlovsky said, referring to the 2009 U.S. government bailout of the auto industry.
He expressed those frustrations to U.S. Sen. Sherrod Brown, D-Ohio, Friday when Brown visited the Local 1112 hall to meet with auto workers.
Brown, joined by UAW Local 1112 President Dave Green, Warren Mayor Doug Franklin and Lordstown Mayor Arno Hill, promoted legislation he says will help support Ohio's auto industry and keep auto jobs in the U.S.
The American Cars, American Jobs Act, which he recently introduced in Congress, would give customers a $3,500 discount when they purchase vehicles made in the U.S. The discount would be applicable for vehicles with 50 percent American components that are assembled in the U.S. The discount, which customers would get at dealerships, would be funded by revoking a tax break for companies that produce vehicles overseas, Brown said.
The senator added he does not yet have co-sponsors or GOP support for the bill.
"What will happen over time is these companies will realize, maybe we ought to stay in Lordstown. Maybe we ought to stay in Cleveland. Maybe we ought to stay in Toledo," he said.
Among other overseas production operations, GM builds the Cruze hatchback in Mexico and announced in June it would build the Chevrolet Blazer in Mexico.
"The same day that more than a thousand workers here were laid off, General Motors announced they were going to build the Chevy Blazer in Mexico. It was shocking they'd announce it the same day, that they'd be that brazen," Brown said.
The Lordstown plant went down to one shift in June. Cruze sales have declined after an industry trend in which consumers increasingly prefer SUVs and trucks to cars.
Brown also discussed a conversation he had with GM CEO Mary Barra before the second-shift layoffs took effect. He said he asked her about investing tax savings into retooling the Lordstown plant for another product.
"She said [retooling] the paint shop is so expensive, it's built for the Chevy Cruze ... and building it for an SUV would be far too expensive," he said.
Green, Franklin and Hill also spoke in support of Brown's legislation.
"This is going to give us the ability to keep working by having a $3,500 discount on cars made in America," said Green. "The cars that are made here in the U.S.A. are the ones we should be buying."
"This bill isn't just about the auto industry," said Franklin. "It's about every single job, every single family in this area."
More like this from vindy.com