Cilone, Porter share lead after round one of Greatest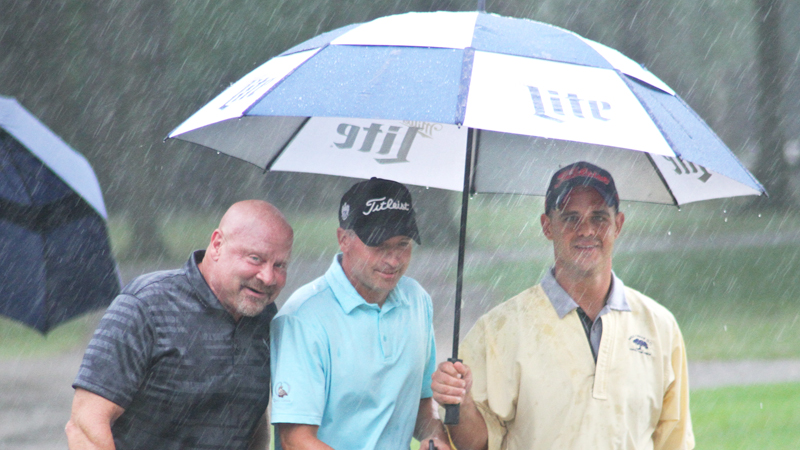 ---
after Round 1 of The Greatest
By Greg Gulas
Joey Cilone and Scott Porter shot 1-under par 69 at Mill Creek Golf Course in Boardman on Friday to share the lead in the Pete Mollica Open Division in the ninth annual Farmers National Bank Greatest Golfer of the Valley Championships.
The lift, clean and place format during Friday's action allowed for some excellent scores across the board in each division.
Dave Tabak Sr. and Joe Bellino in seniors 7-11, and Skip Watt in Super Seniors each shot 70 while Toni Notaro, who is playing in her seventh Greatest event, carded 74 for a one-stroke lead over Angela Molaskey heading to second-round play today.
Cilone said the weather conditions were perfect, despite the threat of rain and high winds.
"I hit a decent tee shot on No. 1, hit a 9-iron to the green and then putted for a birdie, which set the tone of the day for me," Cilone said. "That gave me a cushion because in tournament play you expect a bogey or two and this gave me a cushion to work with.
"We were lucky because there was no wind or rain in the morning and the playing conditions were excellent. If I expect to find myself playing in Sunday's finals at The Lake Club, then I had better shoot on Saturday like I did today. I hit the ball well, putted well and while Tippecanoe is a tough course, I'm looking forward to the challenge."
Porter has finished third on two previous occasions and is looking to finally cash in this year.
"I started hitting my wedges really tight and made my putts, so I gave myself a chance which I hope to continue doing today." Porter saud. "I didn't get in much trouble and that was the key. Tippecanoe is my home course, so we will see if that is any kind of advantage. I just need to remain patient."
Notaro said she played her first round with Molaskey and Abby Cook.
"I really feel very fortunate because I was able to get up and down with two talented young golfers in Angela Molaskey and Abby Cook," she said. "The goal [today] is to remain consistent and have a lot of fun because it's a new day and everyone has a chance."
Watt leads Bob Leonard (71) by a stroke in super senior action.
"I hit 17 of 18 greens in regulation but really didn't putt that well," Watt said. "I will be at Youngstown Country Club [today] and need to duplicate Friday's success. I need to hit a lot of greens, but must putt better."
Steve Smoot's 73 was a stroke better than Kevin Tournoux and two shots in front of Jim Linert in men's 3-6 action while Frank Popio's 76 placed him a shot ahead of Dan Diloreto in men's 7-10 play.
Hank Morris' 76 placed him two strokes in front of five others in men's 11-13 play while Michael Haggerty's 79 was a stroke better than Jeff Blaze in men's 14-16 action.
Joe Fanto's 83 was one shot better than Jay Moore (84) in men's 17-21 action.
"I shot over and above what I normally shoot," Fanto said. "I stayed straight, kept everything on the fairway and chipped and putted really well. I don't normally hit the ball very far, so I must rely on my short game.
"I will play Oak Tree [today] and haven't played that course in over 10 years. I will need to keep my ball straight if I expect to see The Lake Club for Sunday's finals."
In men's senior open play, Dr. Larry McCall's 73 was a shot better than the 74 posted by Jim Cogar, Glenn Milton and Hubbard High School athletic director Chuck Montgomery while in senior 12-plus, Lenny Gessler's 75 was three shots better than Daral Brett's 78.
"I was pleased to see the enthusiasm today," Vindicator Editor Todd Franko said. "There are always some things to tweak and scores to watch. Regardless, we celebrate and try to make things better. The courses and sponsors are the backbone of what we have been able to achieve."
Brian Tolnar, Mill Creek PGA director of golf, just finished hosting his fourth Greatest tournament.
"The Greatest is right up there as one of the biggest events that we host each summer," Tolnar said. "It's a great event for the Mahoning Valley and draws a lot of people for friendly competition. The rotation of the courses is phenomenal and we're just glad to be a part of the tournament."
The 54-hole Farmers National Bank Greatest Golfer of the Valley adult tournament continues today with 294 golfers set to continue play at Avalon Golf and Country Club, Tippecanoe Country Club, Youngstown Country Club and Oak Tree Country Club.
Finals are set for Sunday at The Lake Club in Poland.
More like this from vindy.com