Aretha Franklin's anthems were empowering for women Voice of respect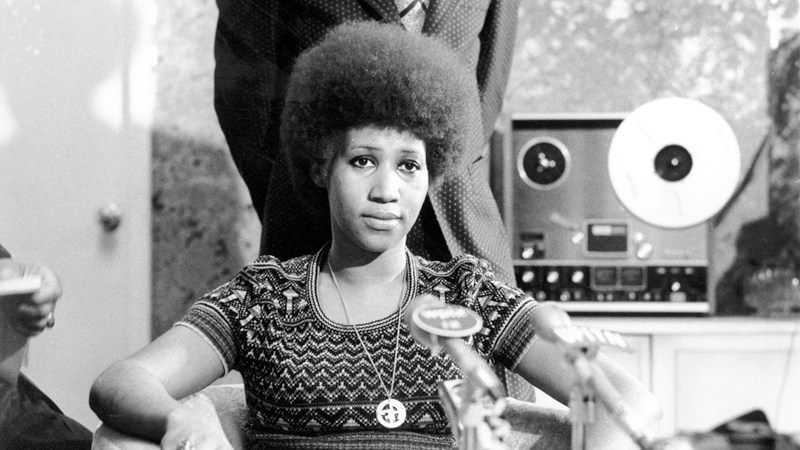 ---
AP National Writer
NEW YORK
Aretha Franklin never saw herself as a feminist heroine. That, she quipped, was Gloria Steinem's role. But she leaves a legacy of indelible anthems that resonated deeply with women by celebrating their strength and individuality – and demanding, well, just a little respect.
"I don't think I was a catalyst for the women's movement," she told Rolling Stone in 2014. "Sorry. But if I were? So much the better!"
The women's movement was just getting going in 1967 when Franklin took on Otis Redding's "Respect," which soon became known as an anthem both for civil rights and for feminism. Franklin changed the song's meaning, radically, just by singing it in her own, inimitable voice. She may not have intended it to be a feminist anthem, but she surely knew how it would resonate. Instead of a man asking for his "propers" when he got home, here a woman was asking for – no, requiring – that same respect, from her man and in a broader sense, from society.
"'Respect' is THE second-wave feminist anthem, more than any other song I can think of," says Evelyn McDonnell, editor of the anthology "Women Who Rock" and professor at Loyola Marymount University. "Aretha was intersectional before the term existed." She notes that Franklin's version of "Respect" was the quintessential "answer record" to Redding's – in this case, with the very same song.
To music writer Caryn Rose, Franklin's message in that song was deliberate. "She knew what the message was, and she intended it," says Rose, who wrote the essay on Franklin in "Women Who Rock." Redding himself basically conceded defeat – with good humor – when singing the song at the Monterey Pop Festival. "This next song is a song that a girl took away from me," he said. "A good friend of mine ... but I'm still gonna do it anyway." It's hard now to imagine a male voice singing the song.
Franklin would later say she intended to convey a message about respect that was broader than any one movement. "The statement was something that was very important, and where it was important to me, it was important to others," she told Vogue magazine. "Not just me or the civil-rights movement or women – it's important to people. ... Because people want respect, even small children, even babies. As people, we deserve respect from one another."
Franklin was, of course, the first woman to be inducted into the Rock and Roll Hall of Fame, in 1987, opening the door for other women. But to call her the greatest female singer is to ignore that in the view of so many she was the greatest singer, period. "There is no one who can touch her," wrote Mary J. Blige in Rolling Stone, when the magazine chose Franklin as the top singer of all time. "She is the reason why women want to sing."
Though "Respect" was probably her most famous anthem of female empowerment, there were other songs of great resonance to women, such as "(You Make Me Feel Like) A Natural Woman," written by Carole King. It's a love song, of course. But in Franklin's rendition, somehow it became, unmistakably, about womanhood.
Among other resonant Franklin songs for women, there was the 1968 "Think": "You better think (think) about what you're trying to do to me," she sang.
And of course there was Franklin's 1985 duet with the Eurythmics, "Sisters Are Doin' it For Themselves."
More like this from vindy.com