New YBI equipment symbol of future of American manufacturing, Youngstown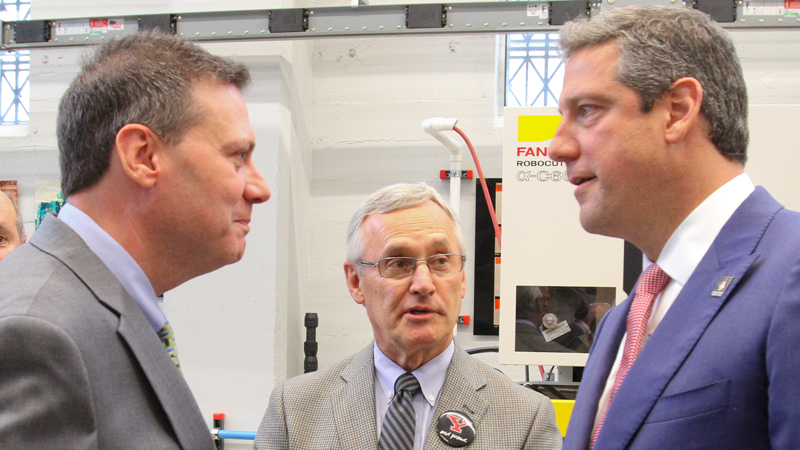 ---
By: Jessica Hardin
Younsgtown
U.S. Rep. Tim Ryan of Howland, D-13th, remarked at Youngstown Business Incubator's advanced manufacturing facility Thursday that this week feels like "the Mahoning Valley's coming out party."
On the heels of the Florida Georgia Line concert, Yo-Yo Ma's performance, and The Wall That Heals exhibit's visit, YBI unveiled the equipment it purchased with a grant awarded by the Appalachian Regional Commission.
The $185,000 grant, which was matched by both Youngstown State University and the Youngstown Edison Incubator Corp., underwrote the purchase of "equipment that supports metal casting, metal additive manufacturing, and plastic additive manufacturing," explained Brett Conner, director of YSU's Advanced Manufacturing Research Center.
The unveiling attracted leaders in business, politics and higher education; the crowd's diversity reflects the utility of this crucial purchase.
"The new equipment supports activities between career and technical centers, our community college, YSU, America Makes and the businesses in YBI's portfolio," Conner noted.
Zac DiVincenzo, COO at Juggerbot 3D, one of YBI's portfolio companies, said, "This will create availability for us to be part of different projects."
Additionally, YSU and Eastern Gateway Community College will have the opportunity to use the equipment for education, training and research.
Many see the purchase as a momentous symbol of the future of American advanced manufacturing and Youngstown's place in it.
"The Mahoning Valley has the opportunity to refocus manufacturing and look to the future," said Jason Wilson, director of Gov. John Kasich's Office of Appalachia.
YSU President Jim Tressel noted, "We get to start talking about what we're going to do to thrive. So much time has been spent on what we're going to do to survive."
More like this from vindy.com