Pop icons come into focus at Paint by Sticker event

Photo
Neighbors | Natalie Wright.Boardman librarian Amy Burkard described the process of the Paint by Stickers activity on July 18. Paint by stickers is similar to paint by numbers, but without using any paints.

Photo
Neighbors | Natalie Wright.Andrea and Nicholas McGooan worked together on a Paint By Sticker picture of The Beatles. They said that they attended about four events for the Summer Reading Program so far and have plans to attend more before the event is completed for the year.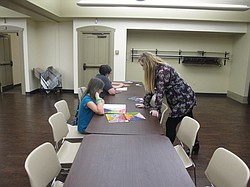 Photo
Neighbors | Natalie Wright.Librarian Amy Burkard helped a participant decide where to start her Paint by Sticker project at the Boardman library. Images of music icons were featured at this event.
Creative children came to the Boardman library on July 18 to participate in a Paint by Stickers event.
Paint by stickers is similar to paint by numbers, but without all the mess that comes with using actual paints. A page of stickers, or multiple pages depending on the size and detail of the picture, are provided for each picture. The segments of color and labeled by letter and numbered, which sticker painters then match with the spots on the page they are trying to complete.
Librarian Amy Burkard, who led the event, said that the process of completing a picture is similar to putting a puzzle together.
The images that partipants had to choose from for this event all centered around pop culture figures. Burkard showed the participant an image she had finished prior to the event of music icon David Bowie.
Each child could pick the image that they wanted to complete. One participant chose Madonna, while another decided to work on an image of The Beatles.
Working on and completing the images can be very relaxing, almost meditative, according to Burkard.