Northside nurses say Steward didn't do enough to attract patients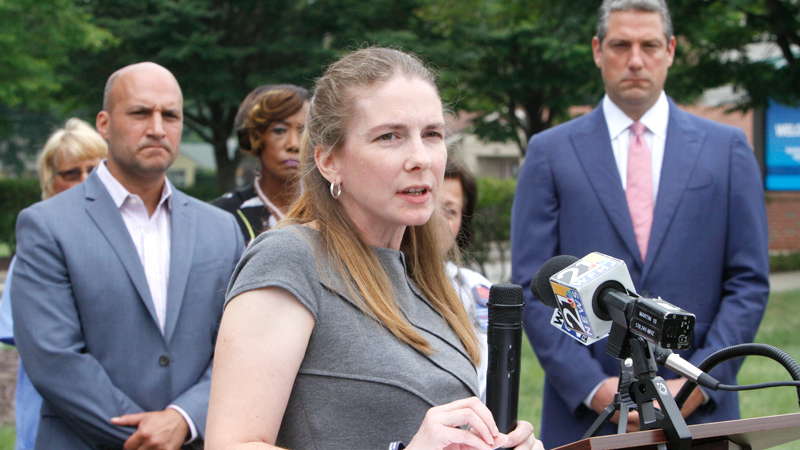 ---
YOUNGSTOWN
Marcia Schiffauer was born at Northside hospital.
So were her children.
Schiffauer, who has worked as a nurse there for 35 years, hoped her grandchildren would one day be born there, too.
"That's not going to happen. It's a shame," she said in an emotional speech Thursday in front of Northside Regional Medical Center, which Steward Health Care announced Wednesday will permanently close Sept. 20.
"I understand we need a census. We need patients," Schiffauer continued. "What can we do to get that? I think we needed more time. I wish we had that time."
Schiffauer was joined by numerous other Northside nurses, representatives from the Ohio Nurses Association and Youngstown General Duty Nurses Association, U.S. Rep. Tim Ryan of Howland, D-13th; state Sen. Joe Schiavoni of Boardman, D-33rd; and M. Rosie Thompson Taylor, a representative of the local faith community.
Ryan and Schiavoni vowed to do their part to support the 388 employees Steward said will be affected by the hospital closure.
"We're going to stand by you the entire way, and make sure if there's a fair shake to be gotten here, the workers get it," Ryan said. "It always seems that at the end of the day, it's the worker that ends up bearing the brunt of the challenge in some of these situations."
Schiavoni said his office plans to get involved to help the Northside employees.
"I'm frustrated with the fact that we're always talking about displaced workers in the Valley and getting them in the position to make a livable wage," he said. "We have to make sure ... we hold Steward's feet to the fire."
Steward has announced two on-site job fairs Thursday and Sept. 6.
"There are over 200 job openings between Trumbull Regional Medical Center, Sharon Regional Medical Center, Hillside Rehabilitation Hospital alone, as well as openings at Steward area medical practices," Trish Hrina, a Steward spokeswoman, told The Vindicator. She said Steward is hosting the job fairs "to work with Northside employees to help them transition to other sites or pursue other medical jobs within the region.
"There are also hundreds of open health care jobs within this market, and Steward is already working with area employers to help Northside employees find new positions."
Schiavoni said he plans to hold Steward accountable for its pledges to help workers, adding, "The key is that we make sure they're not underemployed or making half as much money. It's not just about placement."
Schiavoni noted that Steward plans to maintain some presence at the Gypsy Lane site. He said he was informed that doctors' clinics there will remain open.
A state-required notice from Steward to the Ohio Department of Job and Family Services provided a breakdown of the positions that will be affected.
Many of the 388 positions – 160 – are registered nurses.
Steward also reported losses of 11 respiratory therapists, 10 radiology technologists, 17 nurse assistants, 11 lead medical technologists, 18 medical technologists, 19 food-service workers, 31 environmental-services workers, and 12 clinical resource nurses, among others.
Also at Thursday's news conference was Laurie Hornberger, a registered nurse and president of YGDNA, which represents 188 Northside nurses. The union had been in contract negotiations with Steward for several months before the closure announcement and Hornberger said the nurses were "blindsided" by the news.
Hornberger was critical of Steward's operations of the hospital, saying she believes there is more the Boston-based for-profit company could have done to increase Northside's census.
In its announcement, Steward cited low inpatient numbers as the reason for shuttering the facility.
In a statement, Steward wrote: "After a careful analysis of the hospital needs of the region, Steward Health Care is confident that the Youngstown community will continue to have access to high-quality hospital alternatives at Trumbull Regional Medical Center, Sharon Regional Medical Center, St. Elizabeth Youngstown Hospital, St. Elizabeth Boardman, St. Joseph Health Center, Akron Children's Hospital and the Surgical Hospital at Southwoods."
"This is a difficult decision, but Northside Regional Medical Center remains chronically underutilized as patients in the community choose other hospitals," said Daniel Knell, Central Region president of Steward Health Care.
Steward purchased Northside and eight other hospitals from Community Health Systems in May 2017.
The nurses at Thursday's news conference said they don't think that time period was long enough to turn the hospital around.
"I disagree that Steward had taken the necessary steps to attract doctors and patients to the hospital. Since they've been here, we've seen nothing but decreases," Hornberger said.
She said Steward did not bring new services and outsourced some existing services to its other local hospitals.
The American Federation of Teachers, ONA's parent union, also weighed in Thursday, with AFT President Randi Weingarten calling the closure "a cruel, callous move that will hurt the Youngstown, Ohio, community."
"The Youngstown community has depended on Northside for accessible, high-quality care since 1929, and is now being abandoned because of the almighty bottom line," Weingarten added. "This is a sad commentary on the state of the health care industry today."
More like this from vindy.com