CHS cheerleaders host Kiddie Cheer Camp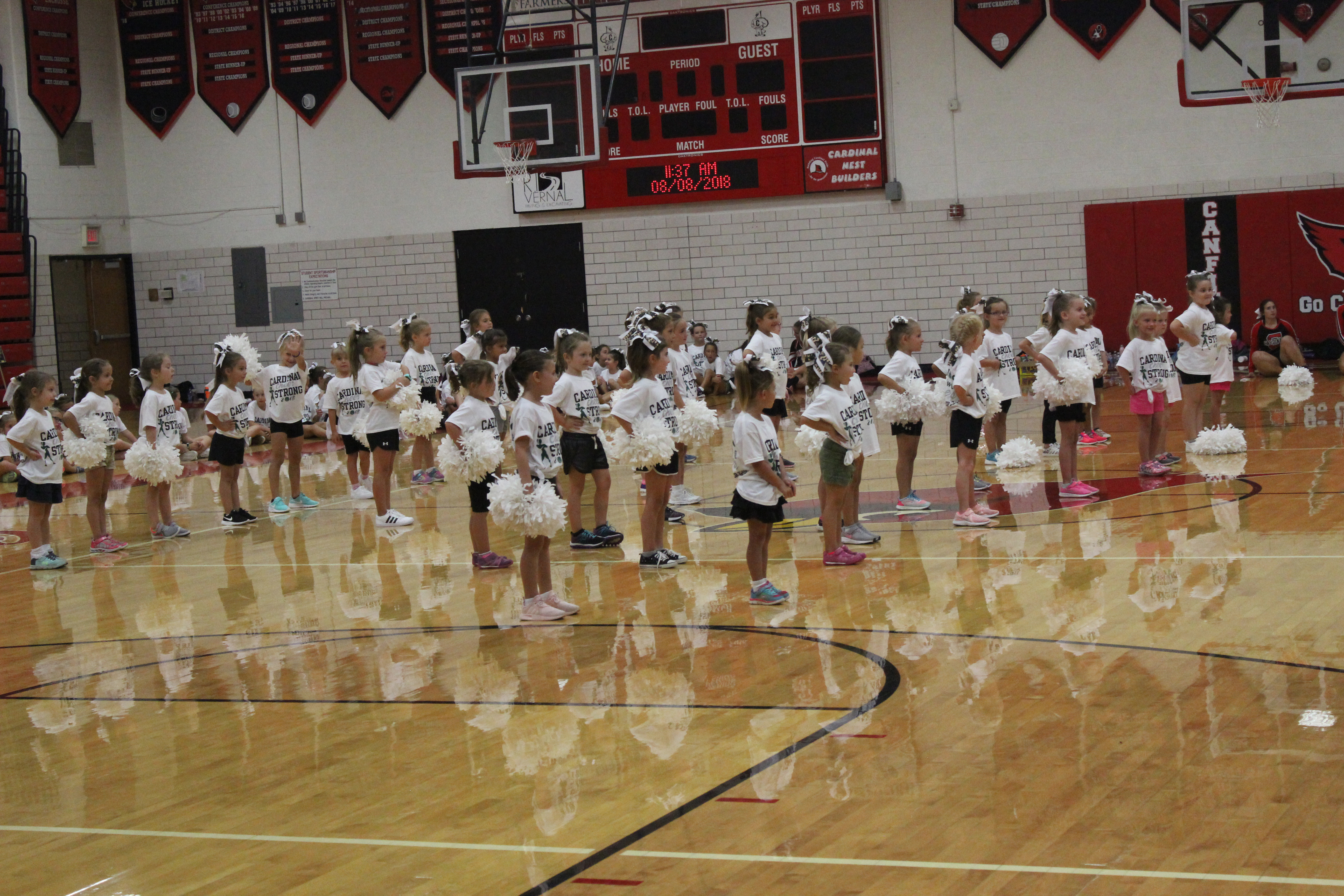 ---
By ABBY SLANKER
Canfield cardinal spirit was flying high in the high school gym during the Canfield High School cheerleaders' annual Kiddie Cheer Camp Aug. 6-8.
More than 200 girls from pre-K to eighth grade attended the camp, under the direction of varsity cheerleader coach Ashley Gibbs, junior varsity cheerleader coach Char Rogers, freshman cheerleader coach Alexa Bodine and 45 high school freshman, junior varsity and varsity cheerleaders.
Campers were divided into age groups and were taught sideline cheers, crowd chants, a band dance, tumbling, jumps and more from the high school cheerleaders.
This year, the theme was "Cardinal Strong," which Williams said was meant to be an inspiration to the young girls.
"Our theme this year portrays what being a Canfield cheerleader is all about. You have to be courageous and your attitude must be positive and respectful. You must be determined and be the best you can be and then be better. You must be strong, both physically and mentally. Canfield cheerleaders connect our program to the Canfield community. We work as a team and we motivate one another," Gibbs said.
Each age group was taught a dance to showcase their talents and what the girls learned at the camp. A performance took place at the end of the third day, during which each group performed cheers and a dance for their parents and fellow attendees. The high school squads also performed for the campers and the audience.
Gibbs welcomed the large audience to the camp-ending show.
"Thank you for coming out today for our parent demonstration. First, I would like to thank our coaching staff. They have been my right hand for everything this week. I would also like to thank the parents for helping to make this camp run as smoothly as it possibly can. Next, I would like to thank our future Cardinal cheerleaders. You worked hard this week and had such high energy. And, finally, I would like to thank our high school cheerleaders. This camp would be nothing without them. They put together the performances and every bit of what you are going to see today. We hope you enjoy our presentation," Gibbs said.
The show started with the youngest campers performing their routine, followed by performances of each age group of campers and freshman, junior varsity and varsity CHS cheer squads.
The camp is a fundraiser for the cheer squads and each camper received a Cardinal Strong T-shirt and a camouflage hair bow.
More like this from vindy.com