Struthers students step-up to help incoming fifth-graders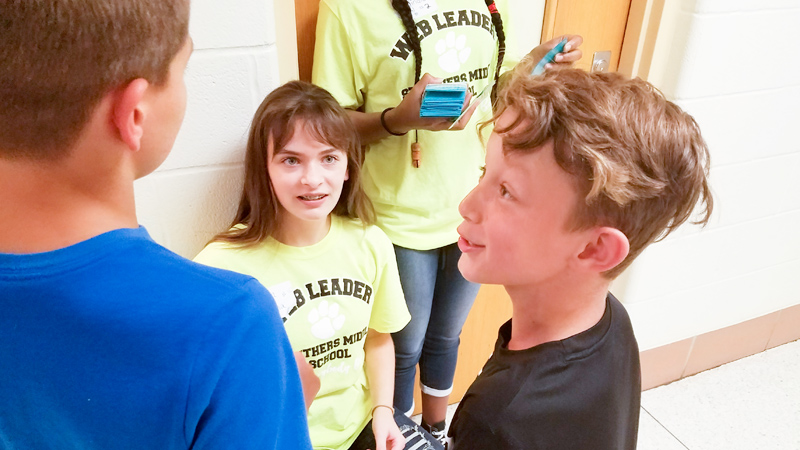 ---
STRUTHERS
Though the first day of school is still a week away, on Wednesday the halls of Struthers Middle School were filled with students darting from room to room, making new friends and reconnecting with those they hadn't seen since June.
The school had its annual fifth-grade orientation day on Wednesday, though this year's event also included the introduction of the "Where Everyone Belongs" – or WEB – student mentoring program.
Ciera DeCapita, an eighth-grade teacher at Struthers Middle School and the lead coordinator of WEB, said the new program pairs incoming fifth-grade students with eighth-grade students to provide them with mentors and peers who can help them navigate middle school.
Seventh-grade teachers Jennifer Ragusa and Scott Stoddart are also coordinators in the program.
"The WEB leaders are all eighth-grade students who've displayed good character and morals. They'll be spending the rest of the year meeting with their fifth-grade students and helping them during their first year of school," she said.
The WEB program includes 23 eighth-grade leaders working with the school's 145 fifth-graders.
While the ratio is certainly lopsided, DeCapita praised the eighth graders' work during the orientation to lead groups of 10 to 12 students in ice-breaker type games and activities.
"Our kids were amazing today," DeCapita said. "We were impressed by their leadership. It went better than we could have hoped."
After the students played "get to know you" games, they were sent out on a scavenger hunt through the school to help orient them to the different rooms and floors throughout the facility.
Le'ayshia Corinaldi, 14, was one of the eighth-grade WEB leaders helping the fifth-graders during the scavenger hunt.
"The teachers asked me to be a leader because I get good grades and they said they've seen me helping people," Corinaldi said. "I'm looking forward to seeing the students every day and checking up with them."
DeCapita said the fifth-graders will meet with their WEB leaders once a month on a Friday, though she believes the meetings will become more frequent as the program grows.
Ragusa said the ultimate goal of the program is to help cultivate a positive, self-perpetuating culture at the school.
"Sometimes it can be easy for a school's culture to be dominated by negativity," Ragusa said. "With this program, we want to focus the school's culture around our positive students in hopes that these relationships that the fifth-graders will build with our eighth-graders will continue to produce positivity in the school."
More like this from vindy.com